No card is profitable until it's used. Therefore, it's critical to get cards activated – and in use – as soon as possible after your cardholders receive them. Activation is a necessary first step in what can become a fruitful, long-term relationship with your cardholder, and it helps ensure your portfolio is composed of active, highly engaged consumers.
Where to start? By making the best use of the data you already have to identify, target and make personalized offers to spur cardholders to activate and, ultimately, use your card.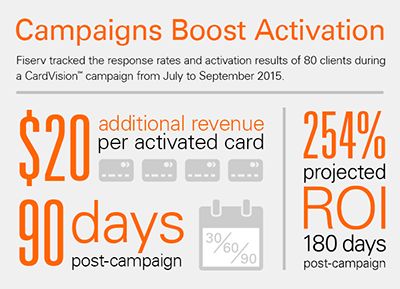 Identifying Inactive or Unactivated Cards
With the help of leading analytics tools, financial institutions can easily identify the cards that have never been activated or are not in use – and help benchmark activation rates against peers.
Determining Which Cardholders to Target
New research from CEB Tower Group outlines how consulting support can help define a clear and actionable strategy that increases revenue and deepens cardholder engagement. According to the report, issuers of all sizes have the ability to know their cardholders better. Knowing cardholders better leads to actionable insights that may help grow business and generate profitability.
Portfolio consultants can also create targeted lists, develop customized messaging that is compelling to each cardholder group, and then target those cardholders with offers to begin and, eventually, extend the customer life cycle.
Making a Personalized Offer
Portfolio consultants can also help by recommending personalized offers to incent activation and strengthen engagement. These offers often provide added value to consumers when activating their cards – think loyalty programs and card controls that enhance security and convenience.
Engage Cardholders for Growth
People today are bombarded with marketing messages and constant demands for their attention. Understanding their needs and delivering the right offer at the right time can help card issuers break through the clutter. Working with a provider that possesses deep expertise in analytics and card program management can provide added insights to help you make good decisions in the short term – maximizing card usage and profitability during the upcoming high-volume season – and for the long term as you budget for a comprehensive engagement and marketing strategy in 2017.