The Bank of Ann Arbor is offering a resounding "yes" to the question of whether there is a strong return on mobile banking investment. While financial institutions intuitively understand the appeal and growth of mobile banking, it's been harder to pin down exact numbers.
But a 2016 study by Fiserv of the return on investment in mobile banking at select community banks provides proof that what those institutions are doing is right, said John Moon, director of consumer adoption marketing in the Digital Banking Group at Fiserv. Researchers looked at the actions of mobile banking users three months before and three months after they started using it. The Michigan bank was among those to participate, and, Moon said, the results confirm the value of mobile banking.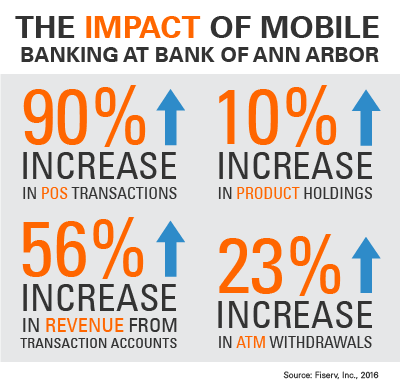 "The study provides quantifiable evidence that there is a causal relationship," Moon said, "between mobile banking adoption and ROI."
Ann Arbor's results mirror those from another study of digital engagement across channels that showed increased revenue and product holdings of customers engaged in digital banking and payments.
In the Bank of Ann Arbor study, the findings showed strong returns in areas such as card use, retention, overall transaction activities, revenue through interchange fees and increases in product ownership.
Patti Judson, Bank of Ann Arbor's chief operating officer, said the study gave the institution a chance to attach solid numbers to a theory it suspected was true.
"We were not necessarily surprised at the increase in profitability," she said. "However, we were surprised at how quickly people migrated to mobile and what the data revealed regarding increased activity of POS transactions, ATM withdrawals and product holdings."
Compared with other institutions surveyed, card use following mobile banking adoption was significantly higher at Bank of Ann Arbor, which had 328 customers participate in the study. That use, Moon said, increases with mobile banking likely because people have quicker access to their balances and can make decisions on the go.
Product holdings also went up at Bank of Ann Arbor. Typically, they increase the longer people stay with a financial institution and the stronger their loyalty becomes. But mobile banking boosted the standard rate of increase.
Highlights of the Bank of Ann Arbor study included:
The number of monthly average transactions increased by about 73 percent, and the average value of those transactions increased 36 percent
Retention was stronger among those who adopted mobile banking, with the attrition rate at 3 percent. By comparison, the rate for online-only users is 4.9 percent and, for branch-only customers, 10.8 percent
Mobile customers generated 66 percent higher revenue than branch customers and almost 54 percent higher than online-only
The study also hit on the opportunities awaiting financial institutions that reach a 30 percent mobile banking adoption rate (defined as the number of mobile bankers as a percent of the total customer base). That threshold, Moon said, is common among the highest-performing clients. Reaching that threshold at Bank of Ann Arbor could:
Lead to cost savings through decreased branch traffic due to a lower average cost of mobile banking transactions
Drive as much as $1.2 million in incremental annual revenue at Bank of Ann Arbor. That overall total is based on an incremental $249 in annual revenue per customer
Lead to more than $18 million in annual incremental point-of-sale transactions, based on an incremental $3,738 in annual point of sale per customer at the bank
Both Judson and Moon said the key is making customers aware they can bank at the speed of thought with mobile banking. If they don't know the opportunity exists, they won't take advantage of it.
People who use mobile banking have multiple options, such as checking their balance at any time, but the crucial step is moving money. That, Moon said, "puts those customers in more of an elite category of profitability," creating financial benefits for the institution and adding stickiness for the user.
But those awareness campaigns should focus on multiple generations. It's a misperception that millennials are the only bankers who value the convenience of mobile, Judson said.
"The needs of our customers are changing," she said, "and the demand for immediacy and 24/7 access will continue to grow at a rapid rate regardless of the age of our client base."