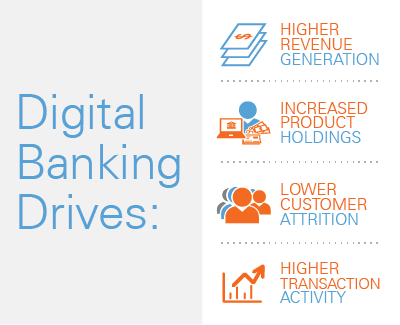 As more customers utilize digital banking, including online and mobile banking and payments, financial institutions need to be able to quantify the value and incremental benefit. Fiserv recently collaborated with Bank of the West to conduct a Digital Engagement Intensity Study to evaluate the value of digital banking and engaged users over a two-year period.
"Financial institutions are operating in a world that moves faster than ever before, where consumers compare their digital banking service to all other digital experiences," said Matt Wilcox, senior vice president, marketing strategy and innovation, Fiserv. "Understanding digital banking activity and the value of these customers can help financial institutions determine where to invest in capabilities that engage and satisfy consumers."
The study evaluated the impact of enrollment in online banking, mobile banking, online bill pay, person-to-person payments and account-to-account transfers on revenue, product engagement, attrition and transactions.
The study revealed that use of digital banking drives:
Higher Revenue Generation

Following enrollment in digital banking, monthly revenue per customer increased by 10.7 percent, compared to a 4.5 percent increase for nondigital users during the same period. And higher engagement drove higher value.

Among highly engaged customers in the study, average monthly revenue jumped 13.1 percent after digital enrollment. The study defines highly engaged customers as those who have the longest tenure, make the most transactions and generate the highest revenue.

Increased Product Holdings

Among Bank of the West customers in the study, the average total product holdings increased 58.4 percent after digital enrollment, compared to negligible growth during the same time period for nondigital customers.

Lower Customer Attrition

Digital banking customers were 35 percent less likely to leave the bank, compared to nondigital users. Attrition was examined in the 15 months following digital enrollment.

Higher Transaction Activity

The study found a 12.8 percent increase in the volume of credit transactions and a 12.9 percent increase in transaction frequency after digital enrollment, compared to negligible increases for nondigital users. The results for debit activity were similar: a 14.6 percent increase in the volume of debit transactions, and a 9.3 percent increase in frequency of debit transactions.
The Bottom Line: Digital Banking Drives Higher Customer Value
After digital banking enrollment, increasing the degree of engagement is the next most crucial factor in driving higher value, including increased revenue and lowered attrition.