For more small business owners, taking care of business means turning to online and mobile channels – and it's impacting where and how they bank. According to the Fall 2015 Raddon Small Business National Research, 55 percent of small business owners consider technology resources when choosing a financial institution. Financial institutions must be ready to meet the changing needs and expectations of small business owners.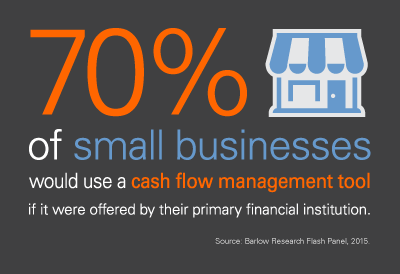 In late 2015, Fiserv commissioned Barlow Research to ask small business owners what they want from their financial institutions. The flash panel survey asked 100 small business panelists with annual sales revenue up to $10 million about their payment preferences and financial service offerings. The survey confirms online and mobile banking are growing in importance to small business owners, who are likely accustomed to using digital banking channels for their personal accounts.
Additionally, the lingering impact of the 2008 economic downturn has taught many small businesses to do more with less. Moving business functions to digital channels is one more way to create efficiencies and extend the business day past branch and post office hours. As a result, many small business owners surveyed expected to increase the use of the following electronic payments via online and mobile banking in the 12 months following the survey, specifically:
Business bill payments: 56 percent of small business owners expect to increase use via online banking, 24 percent expect to increase use via mobile banking
ACH for direct deposit: 47 percent of small business owners expect to increase use via online banking, 18 percent expect to increase use via mobile banking
Wire transfers: 25 percent of small business owners expect to increase use via online banking, 8 percent expect to increase use via mobile banking
Beyond looking at digital channels as strictly transactional, small businesses see how online and mobile banking could facilitate management of an organization's finances, helping them dictate the type and pace of incoming and outgoing money, adjusting actions in response to financial need, and if necessary, pursuing sources of funding. Small-business owners are also highly interested in managing their cash position and cash flow, with 70 percent of panelists indicating they would use a cash flow management tool if it was offered by their financial institutions.
Among small businesses in the survey that would use a cash flow management tool, 24 percent ranked predictive cash management as the most important feature. Predictive cash management goes beyond a basic view of "cash in, cash out" to include a comprehensive picture of known outstanding items, such as ACH transactions due at the end of the day. This allows business owners to better anticipate and address potential cash flow issues.
Building Long-Lasting Relationships
Long-lasting and profitable relationships with small businesses begin with the basics and grow stronger with services such as cash positioning worksheets, budgeting tools and advisory services. It's important for financial institutions to consider the evolutionary life cycle stages of a small business, adapting financial products and services to best meet the evolving needs and growth objectives of small businesses – no matter their size. A brand-new company will not be open to discussions regarding controlled disbursements and lockbox capabilities, for instance, but will instead be looking for help with a loan, credit card and checking account.
Whatever their circumstances, small businesses want to know their financial institution understands what they do to make a living and how their business works. Taking time to learn about individual businesses will help business owners feel more loyal and less inclined to leave their bank or credit union for a better rate or new product.
The estimated 27 million small businesses in the U.S. present a significant opportunity for financial institutions. By offering small businesses the right tools at the right time, including mobile and online business banking capabilities and cash management tools, financial institutions will be better aligned with the changing needs of small businesses – and better positioned to emerge as a leader in the small business space.