Thirty-eight percent of millennials anticipate buying a home in the next five years, according to Fall 2015 research from Raddon Financial Group. Of this younger home-buying group, 71 percent will be first-time buyers – many of whom will not have an allegiance to a primary source of funding. How can lenders capture the attention, and ultimately the wallets, of these millennial borrowers? The answer is twofold: education and digitization.
If a lender balances the right amount of education and information with a seamless, digital process to facilitate origination and servicing activity across mobile devices, they can increase the odds that the consumer, particularly the millennial consumer, will not only choose them, but will remain loyal to them for their future borrowing needs.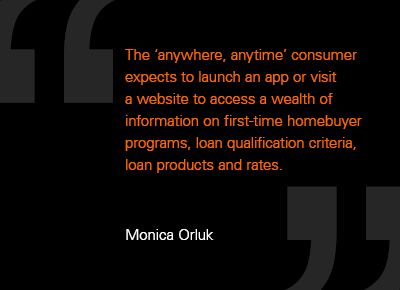 Making Educated Decisions
Millennials place high value on education and making informed decisions, so providing accessible information around the home-buying process is key to attracting this demographic group. Seventy one percent of this group also cited family members as their first source of information for financial advice, according to a 2015 iQuantifi study. While trust is likely the genesis of this response, it could also be suggested that the lack of digestible information online surrounding the mortgage process may result in reliance on their family members and on their family's primary financial institutions.
Appealing to the Digital Native
Today's consumer demand for instantaneous information and a quick, efficient delivery of goods and services has created a new set of technical challenges for the mortgage industry. While the rest of the financial community has gone virtually paperless with the likes of mobile bill pay, online banking and peer-to-payments, the mortgage world has lagged behind with many creating a mountain of paperwork to originate a new loan.
The "anywhere, anytime" consumer expects to launch an app or visit a website to access a wealth of information on first-time homebuyer programs, loan qualification criteria, loan products and rates. Millennials also expect to prequalify online, so they may move swiftly through their purchase. If they can't find the information they need or hit a roadblock, there is an expectation that customer support will be available 24/7. Convenience and speed are just as important as rates.
The millennial homebuyer is less likely to wait for you to catch up. The good news is that the tools a lender needs to succeed already exist.
Evaluate your technology. Utilize Web services to connect tools that push educational data to the consumer, while incorporating digital capabilities. These changes can be made incrementally, without implementing a large development project. Create a roadmap to parse out items like debt calculations, compliant form creation and electronic document signing, into small projects that can quickly deliver value to the consumer already online now. An investment in these digital tools can provide benefits in terms of customer acquisition and production.
Examine your marketing process. If you want to effectively market to millennials, you need to be able to relate to them. Evaluations and purchases are now made using mobile devices on the train, during halftime at the game and at the kitchen table. Hiring millennials to work in your marketing department who can identify with your target demographic is important, but it is not enough to have staff comprised of those with expertise on millennial consumer behavior – they must also possess the mortgage expertise to ensure you are compliant with regulatory requirements. Those include the Truth in Lending Act (TILA), the Real Estate Settlement Procedures Act (RESPA) and electronic document signing.
At the end of day, using technology and education to improve processes throughout the entire life of the loan makes sense not only for the lender and consumer, but for investors and regulators as well. It enables a streamlined, secure, auditable digital process that is easy to validate, inexpensive to maintain, and ultimately satisfies the end consumer need.
This article was originally published in the MReport. Abridged version reprinted with permission.