Fiserv delivers the broadest range of mobile payment models of any solution provider in the world – enabling our customers to compete in this dynamic, disruptive space. Fiserv will continue to invest in emerging mobile payment models to maintain its leadership as the industry innovator. Examples of our proven and live deployments with Fortune 500 banks include:
Person-to-person payments – white-labeled and branded
Real-time card-based merchant payments
Real-time remote merchant and bill payments
Micro and premium payments for mobile content
International remittance payments
Mobile contactless payments and mobile wallets
Our product architecture has been designed from the ground up to support a broad range of mobile payment models ("The Four Destinations" – myself, billers, other people, merchants) across all mobile access modes and our products have been deployed in multi-merchant, multi-issuer environments.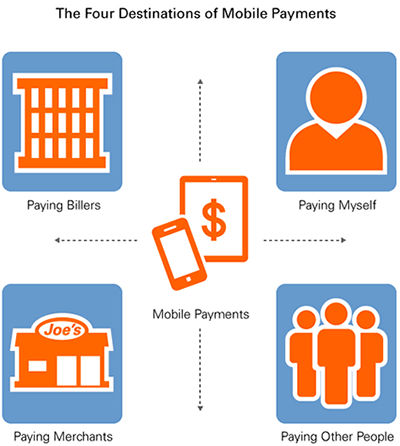 Fiserv is best positioned to ensure financial institutions win in mobile payments. With industry-leading solutions in mobile banking, transfers, mobile deposit, mobile bill-pay, and financial institution-centric P2P, along with our continued investment in emerging payment types, Fiserv will enable your financial institution to succeed in mobile payments today and into the future.