The Procure-to-Pay (PTP) process includes steps, starting with identifying and requesting goods/services through paying the supplier. Purchase Orders (POs) are created for goods/services based on required approvals. The following chart outlines the Procure-to-Pay process at Fiserv.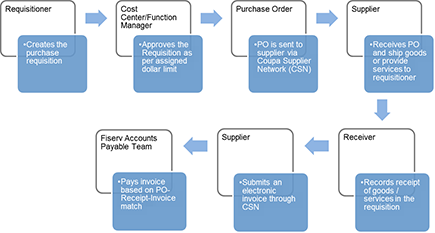 The cycle begins with a need to purchase goods or services. Approval for a purchase is obtained during this internal process.
Once approved, the PO is created and sent to the supplier. It informs the supplier of an expected delivery date and details items such as payment terms, conditions and unit price.
Most suppliers receive electronic POs via our Coupa-enabled processes. Fiserv's PTP system enables electronic PO delivery (and electronic invoice receipt).When the PO is received, it is the supplier's responsibility to ensure that it accurately reflects the negotiated pricing and Fiserv standard terms and conditions or other mutually agreed upon terms.
If the PO is missing information, (e.g., part number, proper descriptions or incorrect pricing) do NOT fulfill the PO. Contact Fiserv Financial Shared Services Center (FSSC) at the phone number on the PO.
The supplier documents acknowledgement of a PO (and stated pricing and item/service details) through our Coupa Supplier Network (CSN) and/or by fulfilling the PO requirements.
After the PO information has been verified and the goods have been shipped or services have been provided, the following must occur:

Supplier invoices Fiserv electronically using via the CSN. Instructions for invoicing via the CSN are communicated during the Supplier Onboarding process.
If goods or services were not delivered against a CSN PO (PO's beginning with the number 45), supplier mails invoice to Fiserv's Chicago AP lockbox address reflected on the PO.

Once an invoice is received and the three-way match process is complete (PO, Goods Receipt and Invoice match accurately), payment should occur on the due date.
---
PO and Invoicing Processes