Our Solution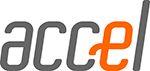 With more than 40 years of debit funds access and payments expertise, Accel from Fiserv delivers a multitude of ways for your consumers to access their funds, make purchases online and in the brick and mortar environment, and send and receive money in real-time. We deliver a broad range of solutions that include point-of-sale (POS) programs for PIN and PINless debit, online bill payments, No PIN and cardless transactions, and e-commerce, in addition to money transfer transaction programs. We continue to invest in and advance technologies like token-authenticated transactions and mobile payments.
Accel remains at the forefront of the payments industry and responsive to a constantly evolving payments landscape with a full suite of innovative, secure and convenient funds access and payment solutions.
Consumers, small businesses and commercial organizations alike use debit, prepaid and healthcare cards for Accel real-time funds access and payment transactions
Financial institutions enjoy a wide range of cost-effective and secure debit solutions comprised of PIN, PINless and cardless transactions, in addition to enhanced payment capabilities and technologies that include EMV/chip cards and transactions secured with a token
Issuing organizations can choose from unique and flexible POS interchange programs designed for financial institutions of all sizes, each with its own unique objectives
Expansive North American Network
The dependability and security of Accel are complemented by broad channel access and expansive coverage, enabling convenient consumer transactions.
Accel is welcome at U.S. retailers of all sizes—large and small, nationwide—with and without a PIN or with a signature
You can also depend on Accel to ensure fast, successful and secure online transactions for e-commerce purchases and bill payment activity
With a 99 percent ATM acceptance rate, Accel cardholders can access ATMs across the U.S.—and in Canada—for cash and balance inquiries