It's important to review your overall fraud migration strategy to ensure layered defenses. In a real-time world, that includes online banking and new account origination. Working with Early Warning and our clients, we consistently apply the latest fraud protections and are always available with solutions and expertise to help clients address those areas.

View P2P as Part of Your Overall Strategy
In a recent analysis of a top-20 bank, Fiserv found a four-fold surge in P2P transactions one year after implementation of Zelle.
With that kind of result, it's no wonder there is significant demand for Zelle from financial institutions. That's exciting, but remember P2P is just one component of your integrated payments strategy.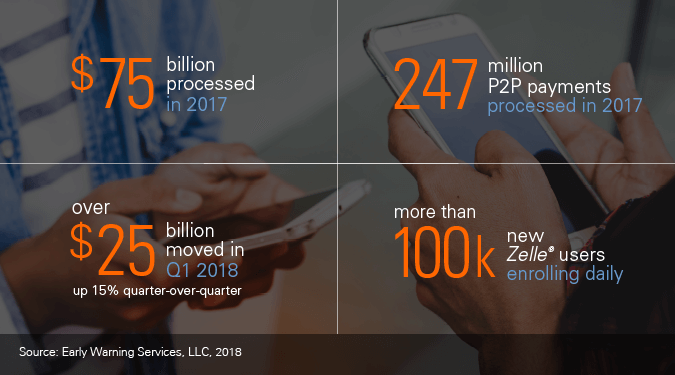 As part of that strategy, we're helping clients establish a real-time connection for payments. P2P capabilities are just the first benefit of that strategy. Once your financial institution has been established, the same real-time connection will work for other payments such as account-to-account transfers and bill pay.
Think of it this way: you are planting the seed for your financial institution's real-time future. That opens new possibilities to differentiate the payments franchise for future intelligent payments applications in retail and commercial.
The Payments Wars Aren't Over
Perhaps the best thing about the early success of Zelle is that it is renewing enthusiasm for the financial institution's payments franchise – ground some industry observers ceded to third-parties years ago. Paying people fast and easily is really at the heart of financial services. And for financial institutions, that's a high-value engagement with their customer that continually reinforces their trust and relationship.
Zelle and the Zelle related marks are wholly owned by Early Warning Services, LLC and are used herein under license.