Consumers want to move money quickly and easily, but they also have clear ideas about security. Financial organizations and billers that are able to check all the boxes – convenience, speed and security – position their organizations to deepen relationships with today's consumers.
The bottom line? People expect intelligent payments experiences. They want to pay bills in different ways through different channels and know their money is safe. Expectations & Experiences: Consumer Payments, the most recent quarterly consumer trends survey from Fiserv, found payments security remains a serious concern and, at times, a barrier to adoption.
Paying bills elicits more security concerns than receiving them; 50 percent of those who manage bills are more likely to be concerned with the security associated with paying bills, compared to 38 percent who are worried about receiving them. Thirty percent say their concern about the security of paying bills has increased over the past year.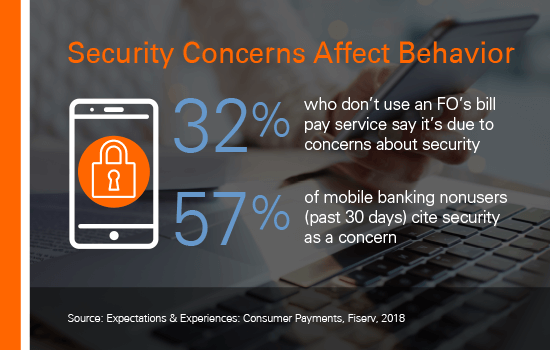 And sometimes those concerns affect behavior, keeping people from using quick, convenient payment methods. Thirty-two percent of consumers who don't use a financial organization's bill pay service say it's due to concerns about security. Among consumers who haven't used mobile banking in the past 30 days, 57 percent cite security as a concern.
Security Concerns With Bills
At 81 percent, personal data and identity theft is the most common security concern with bills, among all those who are at least somewhat concerned about security and billing. Data breaches (65 percent), internet security (39 percent), and dumpster diving or mailbox theft (38 percent) are other top concerns.
Who's the most concerned? The survey found early millennials involved in managing bills are the most likely to have security concerns. When thinking about payment security, 64 percent of those ages 18 to 26 are worried about the safety of paying bills and 49 percent say they're worried about receiving them.
In addition to security, the survey highlights several other findings related to consumer payments:
Consumers have embraced online and mobile payments. A majority of consumers use online and mobile bill pay, with rates similar to last year's survey. In addition, many active users report increased use of digital wallets, mobile bill pay, peer-to-peer networks (P2P) and electronic bills in the past year.
Automatic payments are now the norm. Seniors involved in bill management lead the way in usage of automatic payments, although the service is common across all age groups. Options to sign up at billers' or financial organizations' websites have the potential to drive adoption, as do ACH and credit card payment options.
Time and convenience motivate P2P users. A majority of consumers use P2P of some kind. Still, there is an opportunity to educate, with significant minorities of nonusers saying they don't know how it works or don't want to pay fees.
Interested in learning more? Read Expectations & Experiences: Consumer Payments.