Managing personal finances can give consumers a run for their money. New Fiserv research shows people want moving and managing money to be easier, secure and in step with the way they live – and they're likely looking to their financial organizations for help.
Expectations & Experiences: Household Finances, the most recent quarterly consumer trends survey by Fiserv, found 30 percent of consumers consider managing money to be a burden – and of them, 47 percent say "it reminds me of my financial troubles." The survey, conducted by Harris Poll among 3,081 banking consumers in the U.S., highlights consumer behaviors and trends that can inform financial organizations' strategies and priorities.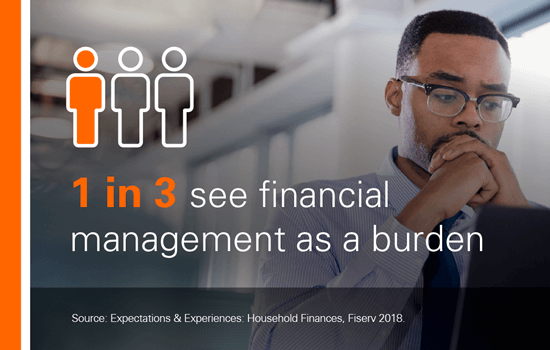 Finances Remain a Concern for Many
If you had to, could you pay back a $500 loan today? If not, you're in good company. Thirty-eight percent of consumers – and half of millennials – say that would be difficult or impossible. No wonder just 37 percent of consumers say they're satisfied with their financial health, well behind their satisfaction with other areas of their lives.
Consumers Make the Most of All Available Options
People want to manage their money when and how they want. They use every channel available to them and many want features such as account consolidation, real-time access, alerts and mobile or browser apps. Consumers are looking for convenience, consolidation and real-time access, including alerts and options for online or mobile apps that aggregate information from multiple accounts. Thirty-four percent identified the ability to manage all their financial accounts in a single online location or app as the most helpful for managing finances.
Desire for Security Appears Linked to Behavior Change
Chip cards are growing in popularity, in part because of an increased sense of security. Just three years after being introduced at scale in the U.S. market, EMV® chip cards are preferred by 36 percent of consumers – up from 27 percent in 2017 – to now be the most preferred payment type. At the same time, more people rely on transaction alerts to help keep money and information safe, with 42 percent reporting they've experienced fraud in the past.
Consumers Are Open to New Solutions
Consumers are open to options that make managing finances easier. Approximately half would be interested in more self-service capabilities for common transactions on their mobile devices, and 44 percent are interested in aggregation services that consolidate account information across different financial organizations. The market potential for ATM innovations is also strong, with 37 percent saying they'd like to get cash at an ATM without using their debit card.
Download Expectations & Experiences: Household Finances to learn more.
Methodology
The survey was conducted online within the U.S. by The Harris Poll from August 22 to September 7, 2017. A total of 3,081 interviews were conducted among U.S. adults ages 18 and older who met the following criteria: Someone in the household currently has a checking account with a bank, credit union, brokerage firm or other financial organization and has used a checking account to pay a bill or make a purchase in the past 30 days.