People have many choices when deciding where to secure financing for the things they want and need. And while there's no shortage of loan information available online, borrowers often rely on other influences when choosing a lender.
Recent Fiserv research highlights several factors lenders can use to drive repeat and referral business. The importance of good customer service is underscored by Expectations & Experiences: Borrowing and Wealth Management, a recent Fiserv quarterly consumer trends survey conducted online by Harris Poll among 3,090 banking consumers in the U.S.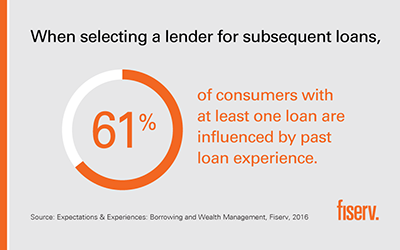 When asked how much influence prior loan experience has when choosing a lender for subsequent loans, 61 percent of consumers with at least one loan said it had a moderate to great influence. Although that finding is fairly consistent across multiple demographic categories, the survey found high net-worth individuals (those with more than $1 million in investable assets) are the most likely to be highly influenced by a previous lending experience (83 percent). Borrowers with six or more loans (75 percent) are also more likely to consider past lending experiences when choosing a lender.
How Do Consumers Select a Lender?
When applying for a new loan, the survey found borrowers with at least one loan consider these top factors:
The best interest rate (76 percent)
No or low fees and service charges (65 percent)
Customer service (54 percent)
Company reputation (49 percent)
Knowledgeable staff (40 percent)
Other than interest rates and fees, which depend on economic considerations, the remaining top factors are all about the customer experience. That's where lenders have opportunities to differentiate their organizations from competitors. Lenders that provide exceptional customer service from knowledgeable staff members – and make the lending experience an easy one – can create an environment that attracts repeat and referral business.
Early millennials (ages 18–24) often place special emphasis on the customer experience and outside input. Members of that generation are likely getting their first loans and have few prior lending experiences with which to compare. In search of guidance, 47 percent indicate that recommendations from family and friends contribute to their choice of lender.
What You Can Do Now
To fine-tune your customer experience, consider all of the touchpoints and channels a borrower uses to interact with your organization. Look to social media for feedback on your customer experience and invite your own feedback with customer surveys. Compare your experience and loan offerings to your competition.
And remember, your process flow doesn't end after closing a loan. A satisfying loan servicing experience is just as important as the origination experience, whether you outsource servicing, sell a loan to a servicing partner or hold the loan in your portfolio.
Customer service, company reputation and a knowledgeable staff are all powered by human interaction. Successful lenders use technology to combine the best of both worlds: personalized service with real-time, accurate information.
 
Methodology
The survey was conducted online within the U.S. between April 27 and May 18, 2016, by Harris Poll on behalf of Fiserv, Inc. The survey was conducted among 3,090 U.S. adults ages 18 and older who are part of a household that currently has a checking account with a bank, credit union, brokerage firm or other financial organization, and who have used their checking account to pay a bill or make a purchase in the past month. The data were weighted to ensure that relevant demographic characteristics of the sample matched those of the U.S. general population.