Concerns about security and a desire to pay the same old way are keeping some from making the most of payment options.
According to recent findings from the Fiserv quarterly consumer trends survey, Expectations & Experiences: Consumer Payments, security, complacency and a general lack of interest are some of the most common barriers to using various payment options.
The survey, conducted online by Harris Poll among 3,031 banking consumers in the U.S., found that while 75 percent of consumers use online banking to access their accounts, some consumers don't take full advantage of services like mobile banking, person-to-person payments (P2P), e-bills and digital wallets.
What's behind the hesitation?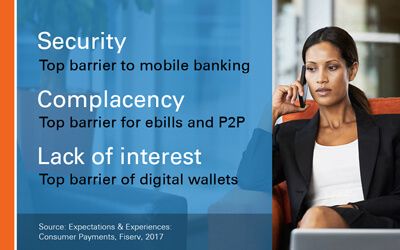 Security Concerns Remain for Nonusers of Mobile; Decline Significantly for P2P
Security concerns are by far the most common barrier to mobile banking use with 51 percent of nonusers saying they would be worried about the safety of accessing their financial information through mobile devices. Other concerns, such as preferring to use a computer (42 percent) and the screen not being large enough (22 percent), lag far behind.
The news is quite different for P2P. Security actually declined significantly as a concern for nonusers of P2P – only 21 percent of nonusers cited it as a concern, down from 29 percent a year ago. It's possible that as adoption of P2P increases – up 36 percent from last year – more consumers may have a better understanding of what the service is and how its security features work.
Some Consumers Are Set in Their Ways
According to the survey, complacency is a factor for nonusers of both e-bills and P2P. E-bill nonusers most commonly say a lack of desire to change their current process (42 percent) is why they haven't used the service.
Similarly, 49 percent of nonusers of P2P say they prefer traditional ways of making payments – checks, cash or cards. This finding is more common among older consumers, with 54 percent of those 52 and older saying they prefer analog methods, while 40 percent of people ages 18–51 say the same.
Lack of Interest Drives Digital Wallet Avoidance
Sixty-two percent of nonusers of digital wallets say they haven't used the capability because they simply aren't interested. That's especially true of older consumers – approximately 75 percent of those ages 63–70 and 81 percent of those over 71 aren't interested in the service. Lack of interest is not as significant an issue with younger consumers, although 47 percent of millennials cite this as the reason they haven't started using digital wallets.
As Growth Continues, Financial Organizations Have an Opportunity to Address Barriers
As younger consumers come of banking age, continued growth in adoption of payments services may follow. Compared to older consumers, millennials (ages 18-36) are approximately three times as likely to use mobile bill pay (54 percent vs. 18 percent), P2P payments (37 percent vs. 13 percent) and digital wallets (29 percent vs. 8 percent).
Even so, barriers to adoption exist across generations and many are addressable. The decline in security concerns around P2P could mean that increased awareness of P2P and its features has led to a greater understanding of security issues. Addressing similar concerns for mobile banking could simply be a matter of more tailored marketing messages and consumer education.
Likewise, complacency issues and a lack of interest could be countered with clear, well-timed communications on the value proposition of e-bills and P2P. And, with 76 percent of consumers saying real-time payment delivery is at least somewhat important, financial organizations could find that the promise of instant credit for payments boosts adoption.
Put simply, giving people the information they need and the features they want could completely change their point of view.
Download Expectations & Experiences: Consumer Payments to learn more.