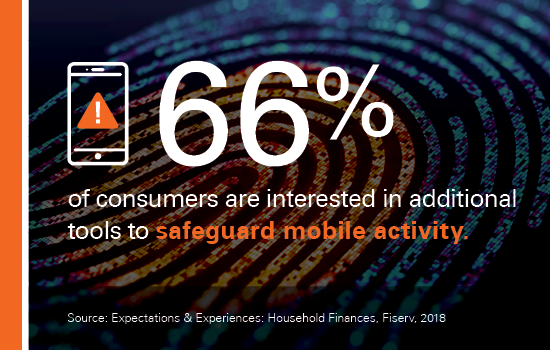 False positives are annoying for cardholders and costly for financial institutions. Less stringent risk controls likely lead to fewer alerts for honest activity. A 2017 internal analysis of Fiserv clients found that when two or more legitimate transactions were denied in a seven-month timeframe, cardholders spent 15 percent less on that card – and 20 percent of those cardholders completely stopped using the card over the next six months. That's lost revenue for the financial institution but also a lost opportunity to build a stronger relationship with the customer.
Are there any takeaways for how we balance security with the cardholder experience?
We need to continually look for ways to make security easier. Biometric authentication is a good, easy way to remove friction by eliminating the need to enter a PIN and possibly a second piece of information. Card controls make security easier, too. Not only do they add a measure of security, but it's also convenient to be able to turn a card on or off, set controls and monitor activity.
Payments must be as easy and frictionless as possible, but the experience should be balanced with security. I believe there should be investments in anti-fraud and security functionality attached to every new innovation.
How should financial institutions be thinking about security from a product strategy perspective?
View the design and implementation of any intelligent security measure through the lens of the payments experience. Consumers seem willing to change their behavior for stronger security, but new safeguards should not add time and difficulty to transactions. A handful of financial institutions are using enhanced security as a way to differentiate their offerings, although security is integral to every payment. Consumers expect every transaction – cards, ACH, bill pay, person-to-person – to be secure.
Of course, it would be naïve to think fraudsters would suddenly stop their criminal activity because of new technology. When one side of the fraud balloon is squeezed, it expands somewhere else. After Europe's adoption of chip card technology, fraudsters quickly shifted from counterfeit fraud to e-commerce, and we're starting to see a similar phenomenon in the U.S.
Criminals will always find new ways to steal money, which means banks and credit unions will need to continually explore new tools and strategies to keep up with these massively well-funded and sophisticated criminal institutions. The good news? Consumers seem more than willing to be a partner in the fight.
EMV is a registered trademark or trademark of EMVCo LLC in the United States and other countries.