Nick White doesn't hesitate in predicting the advent of open banking will one day achieve the significance of the first printed check or the introduction of the coin.
With 20 years of experience working on digital financial services, the vice president at Fiserv has a front-row seat to open banking's evolution in the U.K., which in many ways holds center stage before a worldwide audience. It's also a test case for government-led innovation, in which European Union and U.K. regulators are seeking to create fintech ecosystems for consumers by mandating financial institutions open their data to third parties through application-programming interfaces (APIs).
"It originated within a regulatory initiative to drive competition, consumer choice, innovation and to improve the customer experience," White said. "It's also pulling banks into the API economy and accelerating their focus on delivering more advanced technology. That has led them to think about digital transformation and new platforms."
So far, the primary action is focused on complying with the Open Banking Implementation Entity in the U.K. and the European Banking Authority's Second Payment Services Directive (PSD2) across Europe, said Ken Paterson, vice president of special projects for Mercator Advisory Group. Though it's still early, he said, there isn't much evidence yet of major competitive market shifts in financial services.
"Right now, and really for the next couple of years, 99 percent of what financial institutions in those markets are doing will be compliance related," he said. "After they ensure compliance, then they will move on to value-added services."
The Eyes of the World
Across the rest of the world, open banking means different things to different organizations. Still, financial industry participants around the globe are eyeing the developments in the U.K. and Europe closely.
Whether it's U.K.- and European-style mandated changes or simply adopting more API-style interoperability efforts at the industry level, open banking is uniquely evolving in different parts of the world, though a constant is the need for security, experience and value for the banking customer.
A sampling of select countries around the world shows just how varied open banking efforts are.

Australia Achieves Fast-Follower Status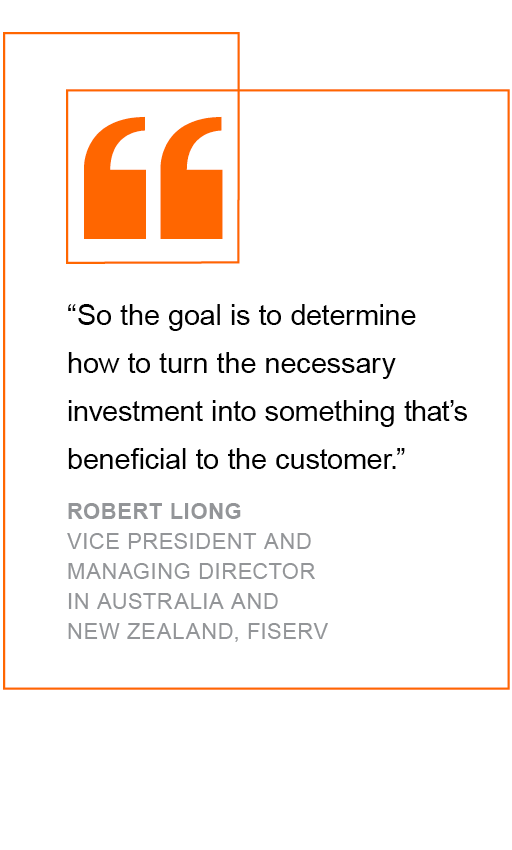 The Australia Treasury Department has announced a phased-in approach to open banking standards starting in July 2019. That decision coincides with the ongoing work of Australian regulators looking into banking competition.
"The compliance regime for that is still being mapped out," said Robert Liong, Fiserv vice president and managing director in Australia and New Zealand. "If you use the same standard implemented by the U.K. government, there could be a one-year grace period to be compliant."
Liong said he expects open banking will shake up the market, particularly among younger, more mobile, digital-savvy consumers who haven't been banking with one institution for decades. Part of his reasoning, he said, is Australia and New Zealand have some of the highest rates of digital adoption, use and market penetration in the world. Australia also is among the most cashless economies of all first-world nations.
The market, Liong said, will be receptive if open banking spurs innovations in artificial intelligence, machine learning, analytics and other areas that deliver conveniences and services consumers expect.
"So the goal," he said, "is to determine how to turn the necessary investment into something that's beneficial to the customer."

Brazil's Big Banks Lead the Way Toward Open Banking
Brazil has a vibrant financial services and fintech culture in which consumers embrace digital banking. The "2017 FEBRABAN Banking Technology Survey" shows more than half of financial transactions are already carried out using digital channels.
Pablo Santos, client solutions consultant for Fiserv in Brazil, said the country is ready for open banking, and every financial institution eventually will adopt and implement at least some of its elements. The largest banks already are investing in the digital experience, which naturally draws on open banking elements.

"Brazilian banks are up to date," he said. "They're always looking for global trends and implement them quickly."
Santos said the country's largest banks have been open banking pioneers, but those concepts will spread throughout the financial services industry. For many, that could start in the next year or so with regulations, driven by the Central Bank of Brazil and large banks, to develop a strong digital architecture.
When open banking regulations arrive, they could offer added benefits and incentives to financial institutions in terms of financial inclusion, Santos said.
"Especially in emerging markets such as Brazil, where a large percentage of the population is unbanked," he said, "open banking may bring the means to include that segment of the population in the financial world."
But the timing of regulations doesn't necessarily mean the industry will wait. No matter their size, financial institutions are already getting ready for open banking.
"Although not regulated, banks are preparing to offer differentiated services to customers," Santos said. "And other entities are looking for banks to create new ecosystems."

Poland Primed for Open Banking
If there was a rule of thumb for Polish banks adjusting to PSD2, Aleks Gren said, it would go something like this: Transform yourself into a light institution with light platforms because it's a survive-and-adapt game, and consumers are ready for open banking right now.
The country manager for Fiserv in Poland said that shift will lead to consolidation and financial market shakeups in the next 10 years. But she said she expects the market to adapt because Poland has set itself apart from others with its digital maturity, both among financial service providers and consumers.
That's a benefit and a source of anxiety for the country's banking industry.
"Some banks have really embraced digital transformation," Gren said. "It's about turning the organization agile, doing away with the silos and hierarchy. Those are the banks that are able to lead that revolution and handle the threats. It's about changing the culture."

That has manifested in multiple ways. Banks are streamlining their digital architecture and launching digital offshoots. That lets the providers use the main company's assets to move quickly into the market, establishing e-commerce platforms for payments and other services and giving consumers the option of using the bank or the provider.
Still, more changes are on the way. PSD2 set the baseline for open banking standards, but every European country can put its own flavor on it. In Poland, that new layer of regulations should arrive in summer 2018.
For instance, Poland's Ministry of Finance and its Financial Supervision Authority are cooperating to amend regulations and stimulate adoption of open banking and the API economy. That includes encouraging fintechs to enter the payment market through the Small Payment Institution, which would let providers run accounts, issue cards and handle transactions up to certain limits.
Polish authorities clearly are working toward creating a legal framework to support adoption of open banking. The market, Gren said, will need to be ready.
"In this country," she said, "when people think of open banking, they expect changes quicker because their readiness is higher."

U.K.'s Next Step: Seize the Open Banking Opportunity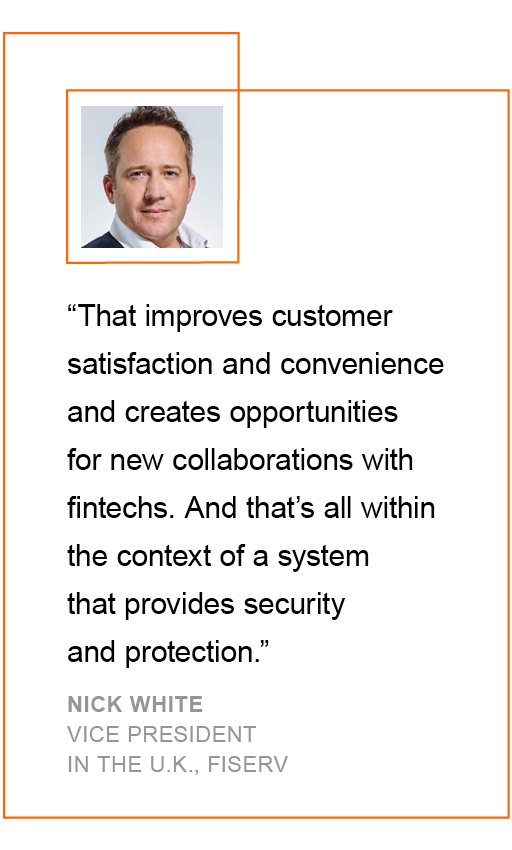 The Competition and Markets Authority's nine largest U.K. banks are breathing a sigh of relief, White said, because they're caught up with the open banking requirements and starting to see third parties that want to use the APIs.
Even with all of the opportunities open banking presents, he said, there still are two competing schools of thought. First, there are those who fully support seizing the moment open banking has provided. Second, there is a temptation to meet just the basic requirements despite the wide array of benefits.
"It feels like they're going against their nature by opening their APIs and sharing their customer data," White said.
Still, with compliance achieved, the market is ready for the opportunities of open banking. That means leveraging APIs to improve the customer experience through advancements in services such as account opening and lending decisions.
"That improves customer satisfaction and convenience and creates opportunities for new collaborations with fintechs," White said. "And that's all within the context of a system that provides security and protection."