Financial institutions are taking a fresh look at the brick-and-mortar branch – location, size, offerings, staffing and technology – to create a new banking experience for their accountholders. Innovative self-service capabilities such as interactive teller machines (ITMs) are at the forefront of new approaches to branch banking, blurring the line between the physical and digital worlds.
Far from becoming obsolete, the reinvented branch is a key growth strategy for many financial institutions, including Sunmark Federal Credit Union. To create a presence in new communities and strengthen bottom-line results, the Albany, NY, credit union recently opened two smaller, more digitally focused branches that feature self-service ITMs. Sunmark's vice president and CIO, Darryl Enfield, said the response to the new branches has been overwhelmingly positive.
"Some in the industry say to abandon brick-and-mortar, stop building additional branches and move everything to mobile and online," Enfield said. "But our members really do value the branch experience and have embraced self-service capabilities."
Like many financial institutions, Sunmark is reimagining the traditional branch visit, updating it with a more digital experience in a smaller space, according to Jaime Dominguez, director of strategy and product management, Credit Union Solutions, Fiserv.
"Consider the branch as an extension of the digital world," Dominguez said. "It's no longer about transactions but about servicing, education and extending the member relationship."
Still the One
In survey after survey, Sunmark's members rated having a branch in their community as the No. 1 reason they banked with the credit union. That echoes new research from Raddon, a Fiserv company, which found that when selecting a new branch, finding one convenient to home or work is very or extremely valuable for 82 percent of consumers.
And that includes millennials. Although they value mobile banking capabilities more than any other factor, they're still big fans of the branch. Raddon found three out of four millennials say a nearby branch is important when choosing a checking account, perhaps because their increasingly complex financial needs sometimes require in-branch advice and personal attention.
Millennials' expectations for a seamless financial services experience, whether it's digital or in the branch, will continue to evolve as they age, and branches need to grow and change with them.
"To meet those needs, financial institutions need to redesign their branches now," said Caroline Vahrenkamp, leader of Raddon Research Insights. "Think smaller and more cost-effective."

Five Smart Branch Strategies for Growth
Sunmark used a cost-effective strategy to expand its branch footprint. The credit union began building small branches in 2017. Its first branch was just 1,500 square feet – about half the size of its legacy branches – saving Sunmark more than $500,000 in construction costs. New branches feature ITM technology, which Sunmark has branded as myTMs, to drive self-service capabilities. In the past year, the credit union also retrofitted an existing branch to include ITMs.
To grow, Sunmark relied on five key branch strategies:

1. Branch Activity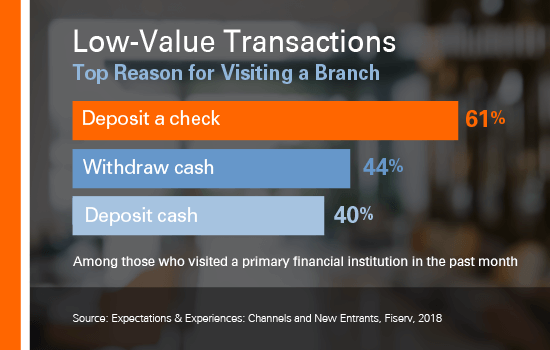 Low-value transactions – depositing a check, withdrawing cash, depositing cash – are the leading reasons people visit their primary financial institution, according to Fiserv research. Sunmark rerouted a high volume of those transactions to self-service platforms, including ITMs that allow members to transact on their own without a remote agent.
Exceeding Sunmark's expectations, 60 percent of all transactions in new branches are now self-service through ITMs. But it didn't happen overnight or automatically.
In the beginning, about 20 percent of total transactions are through ITMs in Sunmark's new branches. With in-person or video staff assistance, a lot of time is initially spent training members to be self-sufficient. After four to six months, 50 to 60 percent of transactions are self-service. Once they're up to speed, members often prefer using an ITM in the drive-through lanes.
When Sunmark launched ITM technology in its oldest branch, the credit union's leadership expected it would take long-term members more time to embrace the technology. But five months after the launch, 50 percent of the branch's transactions were self-service.
The key? Focus on training versus transacting, Enfield said.

2. Staffing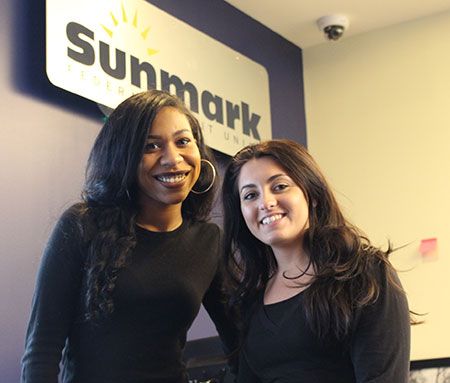 Sunmark uses one greeter and 2.5 concierge positions in new branches, compared to the four to five teller positions it would need without ITMs. A greeter welcomes people into the branch, and with a smile, gently nudges members toward the ITMs. Concierge positions offer help as needed. Members request advisory services more often than expected, which has led to additional advisor staffing.
"Our vision for the new branch model was to use technology to free up staff for relationship building, advisory services and value-added sales," Enfield said. "We don't mind staffing the branch, but we want to do it for the right activities."
That reflects trends throughout the banking industry, said Greg Ulankiewicz, senior research analyst for Raddon. When branch models shift, so do staffing requirements.
"Many financial institutions now look for people who are more oriented to sales and interacting with people – potential hires who don't necessarily have financial services experience," said Ulankiewicz.
 "The thinking is to hire innate skills and personality and then coach them up to become well-versed across the banking universe."
3. Technology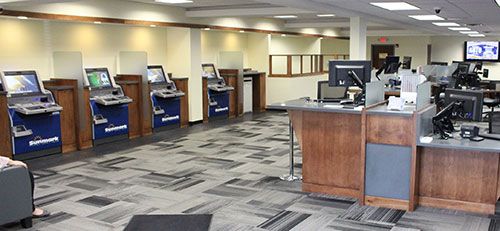 In a traditional setting, every transaction on a video teller machine requires a remote teller in a call center to both drive the ITM and enter the transaction into the core banking system. Not only is the process inefficient, but it also slows down transactions and increases the potential for error.
Enfield suggested Sunmark take a different approach – a self-service ITM that has direct integration to the core and doesn't require a video teller to key in the transaction. That model reduced Sunmark's need for video teller assistance from 100 percent of transactions to just 3 percent. The credit union now supports 15 ITMs with just two video teller positions.
"We make video tellers available to members but for different reasons than most financial institutions," Enfield said. "In our world, the video teller is available to train, answer questions and maintain a face-to-face relationship."
In addition, Sunmark wanted to avoid the typical ITM implementation, in which the financial institution chooses either to integrate the machines to the core or to the ATM network. To serve members and nonmembers from the same ITMs without additional hardware or direction, Sunmark worked with MasterCard, Hyosung and Fiserv to implement a dual-hosted platform that works for everyone.
4. Branch Look, Feel and Functionality
Sunmark's smaller locations use a teller pod concept instead of traditional teller counters. Concierge staff can move more in-depth conversations to desks in the open-floor plan.
Enfield said the new "crazy-busy" branches are sometimes overwhelmed by requests to meet with an advisor, which often translates to staying open later to serve members. The drive-through lanes are also more popular than expected.
With that in mind, Sunmark expanded its newest branch, which opened in June 2018, to 1,800 square feet to make room for extra desks for advisory services.
5. Location, Location, Location
Sunmark used its new locations as an entry point to new markets. That's a common approach, but how can financial institutions best determine the right communities and neighborhoods for a new branch?
Find the pockets where you have good demographics, Vahrenkamp said. Look for areas where the population per bank branch is relatively low. And when you build a branch, focus on making it smaller and more cost-effective. Find the kind of retail and commercial accounts you want and then put your branch there.

Ulankiewicz agreed that by necessity, financial institutions have to be smarter about when and where they build.
"A new branch gives a bank or credit union a presence in the market," Ulankiewicz said, "But it's a mistake to think you can build a branch, open the doors and watch the deposits tumble in."

The Evolution of the Branch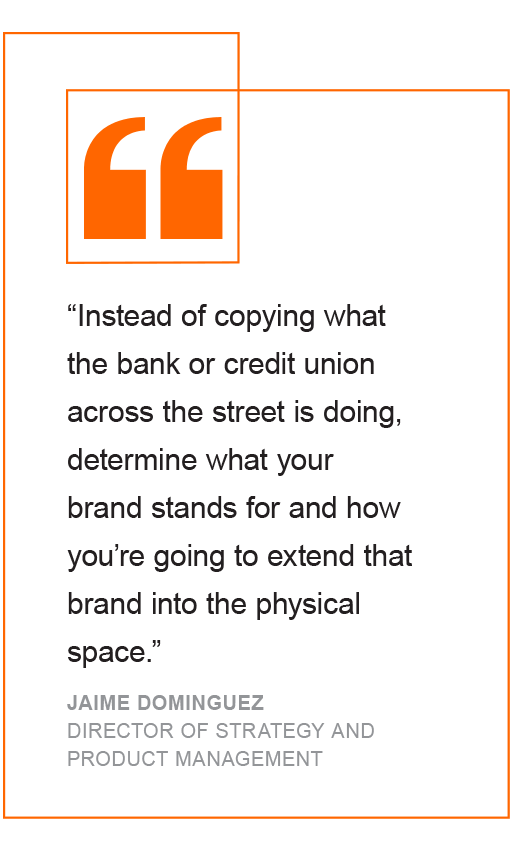 When it comes to transforming the branch experience, Sunmark and other financial institutions are getting a lot right, but it's not easy, Dominguez said.
"This is not a one-and-done thing; it's an evolution," he said. "Instead of copying what the bank or credit union across the street is doing, determine what your brand stands for and how you're going to extend that brand into the physical space. Make sure it's tied to your market and how your members or customers want to interact with you."
Enfield agreed that what works well for Sunmark may not work for another financial institution. But there are lessons to be learned, including maintaining a strong focus on the people you serve.
"Pay attention to trends in branch banking but also understand your members and customers," he said. "Sunmark didn't replace other channels – ones that had been available for many years – with ITMs. Instead, we bridged old and new to serve four generations of members how and where they want to be served."