Despite conventional wisdom to the contrary, most consumers say they are satisfied with their primary financial institutions, according to the household finances module of Expectations & Experiences, the Fiserv quarterly consumer trends survey conducted by Harris Poll. While that may be welcome news overall, there are definite areas for improvement, particularly with that important and often mentioned segment – millennials.
This study was conducted within the U.S. between October 22 and November 5, 2015 by Harris Poll on behalf of Fiserv, Inc., among 3,050 U.S. adults ages 18 or older who are part of a household that currently has a checking account with a bank, credit union, brokerage firm or other financial organization, and who have at least some level of involvement in managing their household finances. The Expectations & Experiences paper summarizes the findings and methodology.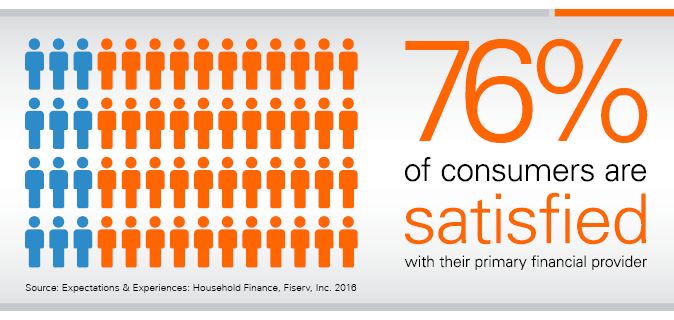 What Millennials Want
At 65 percent, customer satisfaction scores for early millennials (ages 18-24) are 26 percent lower than for seniors (88 percent), which may speak to changing expectations and less favorable views of financial institutions among younger generations. Even among millennials, scores increase with age; 75 percent of late millennials (ages 25–35) say they are highly satisfied with their financial organizations – 15 percent higher than for early millennials.
"Millennials want financial services that fit how they live and do business, and they'll shop around until they find a financial organization that offers the speed, customization and guidance they're looking for," said Nikki Waters, vice president, Consumer Marketing, Fiserv. "Some financial institutions may not yet be equipped to provide this type of tailored information and services, leaving many millennials wanting – and searching – for more."
Help Is on the Way
As a group, millennials appear to have a difficult time making their way financially, with 48 percent of early millennials saying they feel lost when trying to manage their household expenses, according to the survey. For guidance, early millennials most often turn to family members (66 percent). However, compared to older generations, millennials as a whole express the highest interest in unbiased financial guidance and support from their financial institutions through such tools as webinars and comparison tools.
In addition to providing real-time information and enhanced mobile security, financial institutions that offer help setting up and sticking to a budget, tools for managing debt and bills, and alerts when finances go off course may be more likely to establish long-lasting, satisfying relationships with their millennial accountholders. Customer service also looms large with younger generations – 26 percent of early millennials who have more than one financial organization say the reason they have multiple financial organizations is because they like to "shop around" when choosing a financial organization and having multiple financial organizations helps them assess the level of customer service.
Satisfying the Millennial Generation
Most households use multiple institutions to satisfy their needs, with 41 percent using four or more. However, only 25 percent of early millennials use this many financial institutions – a figure that jumps to 45 percent for late millennials.  As they grow more comfortable with their finances, millennials may be especially inclined to pick and choose the services they want with multiple financial services providers. This generation has a "consume-as-you-go" attitude. For example, many may rather pay for a seat in a shared car service than own a car. Diversified offerings, especially digital products and solutions, will help keep consumers from going elsewhere – and earn more wallet share for the financial institution.
Although people choose a bank or credit union for several reasons, they stay when they are satisfied with the relationship they have with their financial institution. Seventy-six percent of all households are satisfied (rating of 8–10 on a scale from 0–10) with their primary financial institutions, and 53 percent of households view their financial organizations as partners in financial management.
The bottom line? People are satisfied with their financial institutions, but this satisfaction – and what is needed to maintain it – is being reset by millennials. To stay relevant, financial organizations must offer the products, services and support that are in step with how people live and work today.