The kids are growing up. As those in the next generation – Gen Z – move toward adulthood, they're doing things their own way, including how they manage and move money. To address their unique experiences and preferences, financial institutions will need to take a fresh look at services and strategies.
Who is Gen Z? Born after 2000, this generation's outlook and sense of security have been affected by the aftermath of 9/11 and the financial crisis. Compared to millennials, they'll likely face even greater challenges as they move into adulthood, including soaring housing costs and stagnant wages. As the first true digital natives, they've grown up connected to smartphones and social media, are well versed in digital technology and accustomed to a continual flow of information – all factors that will influence how and where they bank.
New research from Raddon, a Fiserv company, reveals several counterintuitive findings on the financial behaviors and preferences of this generation. It shows 44 percent of Gen Z anticipate supplementing traditional banking services with solutions from technology companies. However, 34 percent express a preference for interacting face to face at a bank or credit union, banking much like their grandparents. The study, Generation Z: The Kids Are All Right, was based on a survey of more than 2,500 high school students ages 16 to 18.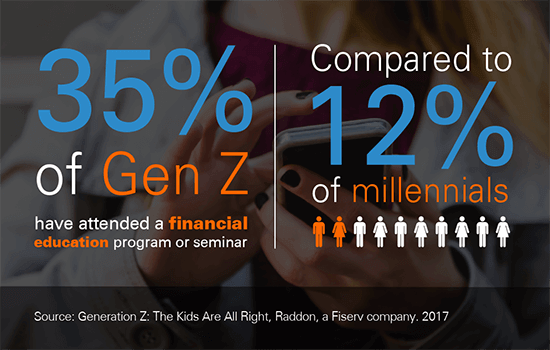 The Point asked Bill Handel, vice present of research for Raddon, about strategiesand tactics financial institutions can employ to win Gen Z's business.
We've talked a lot about the influence of millennials on financial services. Will Gen Z also be a defining generation?
Yes, especially in terms of technology. Gen Z will have very clear expectations for the technology offered by their financial institutions. They'll be more likely to look at processes and say, "What you're asking me to do makes no sense. Make this process faster, easier and more efficient." Look for fintechs, which are especially good at streamlining processes and cutting costs for consumers, to have even greater influence with this generation.
As an industry, we'll need to focus less on marketing channels and specific products and more on how we're making Gen Z's lives easier. Real-time transactions will take on even greater significance. Not being able to access a transaction they just made is simply nonsense to Gen Z.
The study found more than a third of Gen Z wants to interact face to face at a bank or credit union. How do financial institutions balance that preference with a near equal number of young adults who prefer digital channels?
Perhaps because they came of age during a financial crisis, Gen Zers are more open to furthering their knowledge and understanding of financial matters than other generations, according to our research. That means when they visit a branch, they're more likely to be looking for more complex financial advice than help with basic transactions. As digital channels change how we bank, it will be important for financial institutions to take full advantage of the few opportunities they have for face-to-face interactions with Gen Z.
Smaller branches staffed with people equipped to offer complex guidance and assistance can accommodate that shift and build trust. Beyond the branch, Gen Z will likely expect advisory capabilities via a mobile device, online banking and video chat, in addition to other easy, fast digital experiences that meet individual preferences and behaviors. One size no longer fits all.
In light of the findings in this report, what can financial institutions do now to prepare for Gen Z?
If financial institutions are waiting to establish a relationship with Gen Z, they shouldn't wait any longer. Sixty-seven percent of Gen Z respondents have an account – either their own or a joint account with their parents – at a financial institution.
Banks and credit unions may benefit from turning their attention to Gen Z's parents – a significant source of counsel for this generation. It's important to show them how a relationship with their bank or credit union can help make their children's financial lives better. Financial institutions may want to consider one-on-one counseling or financial literacy programs and seminars aimed at Gen Z. That help will likely be well received. Our research finds 56 percent of Gen Z believe programs or seminars from financial institutions are important sources of personal financial information.
For Gen Z, transactions, loans and deposits are commodities. The differentiator is how a financial institution can make their lives easier and better. This is the perfect opportunity for a bank or credit union to become Gen Z's trusted advisor.
Seizing the Opportunity
As they take their place in the world, Gen Zers are the next challenge – and the next opportunity. Financial institutions cannot simply dust off the strategies and tools they used to attract millennials. Instead, they'll be better served letting their offerings and approach evolve to meet this generation's unique needs, expectations and preferences.