Consumers aren't the only ones turning to mobile banking for anytime, anywhere access to financial services. According to the Fall 2015 Small Business National Research report by Raddon, nearly half of small businesses are using mobile to add a new dimension to their day-to-day operations, including on-the-go approvals and decision making. And as the size of the small business increases, so does the likelihood the business is using mobile banking; 58 percent of small businesses with annual sales from $500K to $10 million are using mobile banking.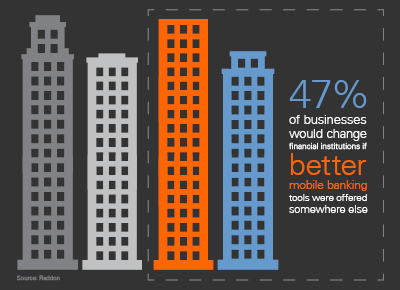 Businesses, especially firms led by people who aren't often behind a desk, need advanced mobile functionality. Simply repurposing consumer mobile solutions for business use misses the mark. In addition to account information, funds transfer and remote deposit, businesses have unique cash management and security needs, including requirements for multi-user entitlements, payment approvals and advanced authentication capabilities.
When decision makers are away from their desks or out of the office, comprehensive banking capabilities, alerts, and reporting and payment functionality keep business moving. Notifications let decision makers know when transactions – ACH, wires, positive pay and internal transfers – need approval. User credentials and entitlements carry over to mobile banking for added efficiencies.
Digitally Connected Businesses Offer More Value to Financial Institutions
Financial institutions that meet the unique needs of digitally connected businesses stand to realize several key benefits, including greater profitability from commercial accounts. For example, Raddon found businesses that use mobile banking have more business deposit and loan accounts at their primary institution and are more than twice as likely to seek a loan in the coming year, compared to businesses that don't use mobile. Businesses that use mobile banking are also more optimistic about future growth; 70 percent expect growth in the coming year, compared to 49 percent of businesses that don't use mobile banking.
In addition, mobile business banking influences attrition. Commercial clients, especially younger ones, are looking for the convenience and 24/7accessibility provided by mobile banking – and are willing to go elsewhere to find it. Mobile banking is used by 66 percent of millennial-led businesses, and 58 percent of firms led by members of Gen X. Forty-one percent of millennial-led businesses indicate they would not use a community bank due to a perceived lack of online and mobile banking functionality. Of millennial businesses that don't use mobile banking, 22 percent cite the lack of available functionality within their financial institution's mobile banking platform. These results point to an opportunity for greater market share when increased mobile banking functionality is offered.
Commercial accountholders are looking for mobile banking solutions that mean business. According to Raddon, a third of small businesses use mobile apps designed specifically for business banking. The size of the business – and by extension, the depth of technology and functionality needs – greatly influences whether a business uses a business-specific app. Forty-five percent of businesses with sales from $2 million to $10 million use a mobile business app, compared with only 18 percent of firms with sales under $100K.
Fifty-seven percent of businesses enrolled in mobile banking use both smartphones and tablets. Of this group, half access mobile banking more frequently with their smartphone, 30 percent are more likely to use a tablet, and 19 percent use both devices equally. While the type of interactions conducted often vary by device, digital banking users expect consistency across the many channels they use – preferring the same accounts and account information displayed, the same passwords and preferences used, and the same look and feel.
Financial Institutions Need to Make it Easy
Financial institutions must make it their business to provide intuitive, user-friendly mobile banking services and advanced capabilities that go beyond the needs of the retail user. Providing a seamless, optimized experience for business banking and payments will create a key advantage when competing for business customers – and help commercial accountholders get the job done.