Money in, money out. With more payment options than ever, businesses are under constant pressure to support the various ways consumers want to pay and get paid. Increasingly, the preference is for easy, convenient and fast digital payments through a company website or mobile app.
While credit cards are often used for online payments, they can be cost-prohibitive for some businesses to accept, and not all consumers have or want to use them. The Expectations & Experiences: Channels and New Entrants quarterly consumer trends survey from Fiserv revealed that 50 percent of people would like to have money withdrawn right away versus buying on credit. And a 2017 survey conducted by Maru/Matchbox on behalf of Fiserv found that 54 percent of people are open to using an online e-check, a figure that rises to 72 percent among those ages 18–34.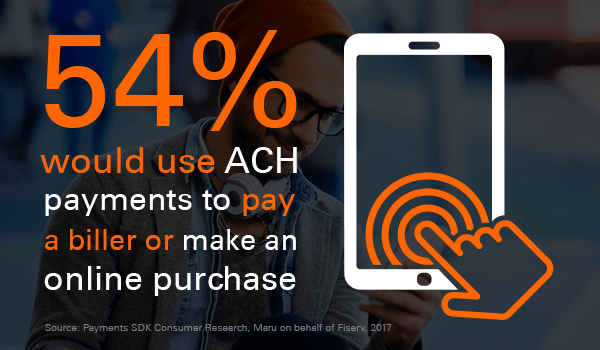 Electronic checks, or e-checks, offer an efficient, cost-effective and consumer-preferred way for businesses to accept one-time and subscription-based recurring digital payments – and are worth considering as part of an overall payments mix. Many businesses now offer electronic checks along with credit card options to reduce costs, provide more options for consumers, and serve new markets and segments within their payment experience.
When evaluating a digital payments service for your business, here are the top attributes to evaluate:
Flexibility

It's essential to be able to tailor payment options to align with your business model and the way customers pay or want to pay your business. When multiple payment types and payment speeds, including real-time transactions, are supported, customers can quickly and easily make a payment that suits their needs.

Ease of Integration

It's important to be able to easily add new payment options to your website. A digital payments service accessed via an application protocol interface (API) is a good way to do this. In this model, all the payment capabilities are hosted by the provider, and your business connects to them via a set of basic programming tools.

Mobile Payment Ready

Mobile devices are how many consumers manage and move money. Forrester predicts U.S. mobile payments volume to triple by 2021 to $282 billion. Competitive businesses prioritize mobile payments as a key part of their strategies to meet the needs of a population increasingly tied to their smartphones.

Security

As payment options expand and different forms of payments are added to the payment experience, the need for security and risk mitigation becomes even more important. Integrated security capabilities, including account and identity verification, are integral to payment service selection. It' important for your business to ask questions about fraud prevention and detection capabilities when selecting a digital payments service. A provider processing a high volume of transactions may be best able to spot anomalies that indicate fraud.

Scalability

Working with a payment provider who has the bandwidth to deliver high-volume transaction processing – day in, day out – with reliability and speed ensures businesses can be confident their growth will be supported. Your partner should be able to scale with you as transaction volume grows.

Price

Make sure you have a good understanding of costs. Will you pay a flat fee, per transaction or a combination? Will you pay the same or different fees depending on payment type? Consider how pricing will be impacted if your transaction volume grows, in addition to implementation costs and other fees.

Support

A stable, reliable provider can likely provide enhanced customer support and expertise. It is important to know you will be able to receive assistance when needed, including online support, and have access to reporting, dashboards and online account management tools. Consider what your support needs might look like beyond core operational and technical support. If your needs are more sophisticated, you may want to look for a provider that can be a true business partner – and one that can guide you through key steps such as how to prioritize payment offerings, work through the design process and roll out payments services to your customers.
Expanding Payment Options
As payment types proliferate, it's possible to provide efficient, lower-cost payment options and encourage their use. Delivering the fast, easy payments experience consumers expect is always good for business.