Every insurance claim has a story. Whether their payouts are for rebuilding after a hurricane or fixing a fender bender, policyholders have unique and pressing financial needs. Waiting days or weeks to get a paper check is frustrating and, in some cases, unacceptable.
To meet growing consumer demand for speed and ease – and companies' need for secure, efficient and cost-effective payouts – insurers are moving to convenient, real-time digital disbursements. Digital payments can be sent to an email, mobile number, card or bank account and settled into receiver accounts in seconds instead of days. Insurers can even send payments to an ATM for instant cash pickup, which is especially helpful in emergency situations.
Yet paper-based payments persist. Sixty-two percent of policyholders received a paper check for their insurance claims last year, according to Expectations & Experiences: Channels and New Entrants, the most recent quarterly consumer trends survey by Fiserv.
Insurance Payouts in a Pay-Me-Now World
Startups and emerging companies that prioritize speed, ease and the digital experience are starting to disrupt the insurance industry, much like what we've seen in the banking space with fintech. "Insurtech" especially targets millennials with simple onboarding, customized offerings, easy-to-understand premiums and most especially, the promise of hassle-free payouts. Companies that stick with paper-based, cumbersome processes risk disruption by these companies.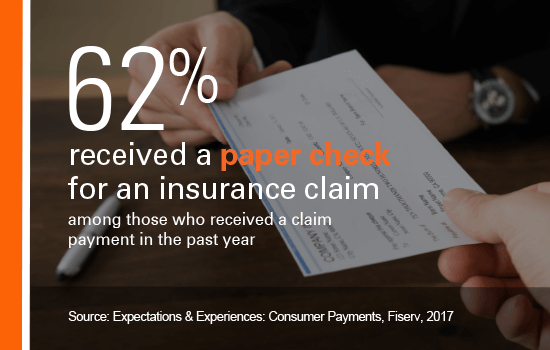 New players in the insurance space often carve out niches, such as coverage for renters in major metropolitan areas or for people who want an insurance product with an emphasis on social good. Offerings may also be targeted to the specific needs of millennials or other demographics to create a highly relevant offering.  These insurers have a story – and an offering – that resonates with many consumers.
Why then have insurance claim payments been slower to digitize than other payments? One reason is the broader state of the heavily regulated insurance industry. That regulation drives complexity, which may have driven traditional insurers to move at a more cautious pace, and as a result, has generally hindered innovation compared to other industries. More recently, technology advances in several areas, including artificial intelligence and GPS tracking, have inspired newer players to enter the insurance space with fresh perspectives and a renewed push for innovation in the industry. Digital payments are one important outcome of this shift.
Multiple Parties, Multiple Considerations
In addition, insurance companies face unique challenges when issuing a claim payment to two or more parties. For example, to pay an auto claim, the insurer may send one check made out to both the policyholder and the auto body shop. A couple that owns a house will likely have both parties on the home's insurance policy. If there's damage to the home, the insurer typically sends a paper check made out to both parties. The homeowners must both endorse the check before it can be deposited – a time-consuming process.
 
A digital multiparty approval process transforms that paper-based workflow in a few clicks. How does it work? The electronic payment notification is sent to every party with a claim to the payment. Each person or business on the payment opens the communication and follows a couple of intuitive steps. The first person to open the communication determines who will receive the payment, and other parties must approve those instructions. The person or business selected to receive the payment is prompted to provide account information. If the payment process is rejected by any party, funds are automatically returned to the insurance company, who can then take any steps to reissue the payment.
In addition to multiparty payment capabilities, digital business-to-consumer disbursements offer several benefits for insurers and other companies. Digital disbursements eliminate costs associated with check processing and mailing, as well as the inevitable customer support and satisfaction challenges. Faster, real-time payments deliver a compelling customer value proposition and a competitive advantage to businesses. Companies will also likely find value in streamlined tools for fast integration, risk management services and a strong support model to minimize day-to-day impact during a transition.
Secure, Convenient Payments
As emerging technologies and new insurance providers have challenged the insurance industry to think differently, insurance companies can look to digital disbursements services as an important – and relatively easily attainable – step forward.  Working with a leading provider, insurers can deliver a breadth of offerings and payment options to ensure policyholders get their money how and when they want, while reducing payment costs. In the same way, a scalable partnership that provides multiparty approvals and payment expertise can be a game changer.
People pay insurance premiums hoping they never need to make a claim. When disaster – or a minor accident – strikes, policyholders will remember their payout experiences. Make sure it's the frictionless digital experience they expect.