The rapid adoption of smartphones has created a strong demand for constant connectivity, personal control and choice. Consumer expectations of always-on access to real-time information have led to a need for interactive finance. 
Research from Varolli Corporation shows that consumers want to receive alerts about specific financial activities or events that enable them to take immediate action. Additionally, consumers expect this interaction to occur on their chosen devices – computers, smartphones and tablets – and through a variety of end points, including email, text/SMS, secure messaging inbox (within online banking), smartphone or tablet app (via push notifications) and voicemail.
While many financial institutions see alerts as table stakes or a cost of doing business, some see an opportunity to further engage with their customers and drive more profitable relationships. A comprehensive enterprise alert strategy provides financial institutions with an opportunity to help consumers redefine how they monitor and manage their finances, becoming a partner in interactive finance. 
So how does a financial institution develop and build an enterprise alert strategy? Since the opportunities for alerts span across multiple lines of business, it is best to use a phased approach to roll out alerts in the following five stages: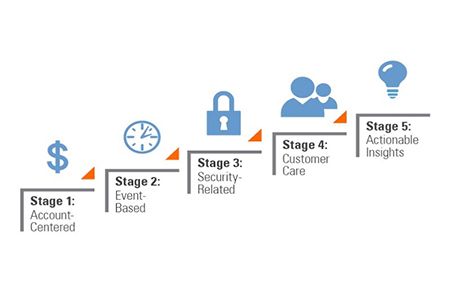 Stage 1: Account-Centered alerts are specific to account activity, including low balance, direct deposit and large debit amount.
Stage 2: Event-Based alerts indicate when bills are due, P2P payments are requested and other events that may prompt a follow-up action.
Stage 3: Security-Related alerts notify when accounts may be compromised, like when there are international charges on a credit card, suspicious transactions or passwords have been changed.
Stage 4: Customer Care information is initiated by either the customer or the bank, for example; "Your auto lease is up for renewal. Do you want us to call you to discuss it?"
Stage 5: Actionable Insights provide financial management tips and guidance based on the customer's activity, for example, "We noticed you spent less money on groceries last month. Would you like us to put that money into your savings account?"
Independent third-party and Fiserv research reveals a successful alert strategy that delivers actionable alerts via multiple end-points and devices can lead to:
- Higher customer satisfaction, loyalty and retention due to increased engagement 
- Increased ability to attract new customers and new alert users by positioning the institution as innovative, trustworthy and in-tune with customer needs and preferences 
- Reduced channel costs by shifting transactions away from high cost offline channels to the digital channel 
- Lower internal process costs and risk through further automation of client communications and tracking 
- Lower fraud rates by making consumers aware of potential fraud earlier and reducing ensuing losses
 
Now's the time for financial institutions to create an enterprise alerts strategy that satisfies consumer demands, makes products more interactive and generates true value for the organization.
 
In this exclusive video from the Fiserv Boardroom Series, Jim Tobin and Oliver Chiang of Fiserv discuss how notifications and alerts have extended the innovativeness and usability of mobile banking for consumers.