The digital age is completely changing the way financial institutions communicate with their customers. With smartphones now part of everyday life, expectations for tighter, real-time control over finances are a reality. These expectations present the perfect opportunity for financial institutions to strengthen and grow their customer relationships: By delivering real-time, actionable alerts via push notifications, your financial institution can drive deeper engagement and help position your organization as a trusted partner.
Push notifications are delivered to smartphones or tablets via mobile apps. Forty-five percent of U.S. banking consumers – and 65 percent of 18–24-year-olds – currently receive alerts through financial organizations, according to Expectations & Experiences: Channels and New Entrants, the Fiserv quarterly consumer trends survey conducted by Harris Poll among over 3,048 U.S. banking consumers. Just 15 percent of respondents said they didn't want to receive alerts about their finances.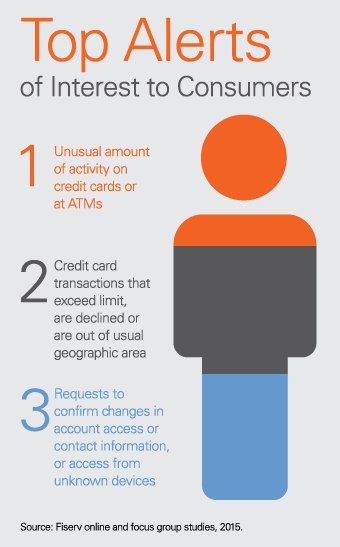 Driving Value for Consumers

A robust alert strategy may promote:
Enhanced customer engagement and retention through ongoing interaction with a financial institution's brand
Reduced fraud risk exposure by providing real-time alerts on unusual or potentially fraudulent activity
Greater customer self-service usage, which may reduce support calls and branch visits while providing customers with a convenient digital alternative for managing their finances
Greater revenue opportunities through marketing offer notifications  and increased transactions with the potential to charge for high-value alerts 
Lower internal process costs and risks when the alert strategy uses an enterprise platform for notification and alert generation
Real-time integration with other banking systems using a single push notification platform that links to other banking platforms such as online and mobile banking, credit card solutions, fraud solutions and cash management solutions – promoting efficiency and building synergy to maximize the customer experience 
Improved user experience through messaging delivered on-screen without interruption of current activity, which offers a less intrusive experience than SMS messages
The Art of Engagement
To grow alert adoption with customers, consider which types of alerts customers want, how they want to receive them and when – and make alert set up easy and promote awareness. Use alerts to proactively talk to your customers and help build trust.
Alerts can empower customers by encouraging them to seek insight and advice from their financial institutions when managing their financial lives. Actionable alerts allow customers to act on the information in a notification, such as providing the ability to immediately transfer money upon receiving a low balance alert.
A Bright Future Ahead
Imagine the opportunities that could arise from integrating an alert platform with lending, credit or investment services platforms. Potential conversations could include: "You've just deposited a large sum in your savings account. We can offer you better rates with our mutual funds portfolio bundle. Interested in learning more?" Or, "Your car lease expires in three months. It might be time to speak with us about our new lease rates. Tap here to find out more." This level of engagement builds trust with customers and promotes new revenue opportunities for your financial institution.
Investing in alerts can help financial institutions achieve stronger engagement, greater fraud mitigation, and cross-sell and fee revenue opportunities. Financial institutions can redefine their enterprise approach to alerts in a way that satisfies consumer demand, makes products more interactive and generates value. Your financial institution can differentiate itself by taking a leadership position when it comes to sending alerts via push notifications.
Interested in learning more? Read Push Notifications Are Redefining Financial Communications, a new Fiserv white paper.