Consumers today are moving money and making payments with their mobile devices – and they expect to do so with ease. One component of the smartphone, the camera, can make mobile billing and payments easier by quickly capturing and archiving relevant information from a paper statement.
Mobile bill pay is now used by 65 percent of mobile bankers, according to the latest Expectations & Experiences quarterly consumer trends research from Fiserv. But when mobile capabilities don't meet consumer expectations for ease and convenience, financial institutions face dissatisfaction and even attrition. Innovations such as bill capture provide an improved bill pay experience.
After using your smartphone camera to take a picture of a paper statement, optical character recognition technology extracts bill information, such as amount due, due date, account balance and payee information. People can take a picture of a paper statement when they have it in hand, but they don't have to make the payment then. Save it, and the system sends a reminder to pay the bill when it's due.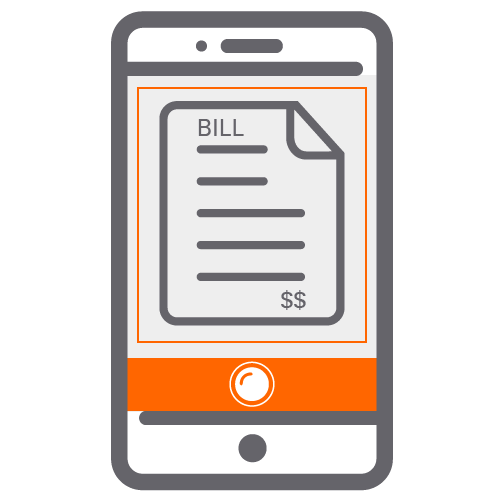 The Point talked to Justin Jackson, vice president of integrated payment solutions and bill payments for Digital Banking at Fiserv, about why capabilities such as mobile bill capture are important to consumers and financial institutions.
How do innovations in mobile banking and payments meet the needs of consumers?
For a growing number of people, the smartphone is the only device they use to access digital services, from online shopping to receiving and paying bills. Javelin Research estimates 1 in 4 banking customers are mobile-first or mobile-only users. What if your mobile experience doesn't meet that growing segment's need for speed and ease? The best-case scenario is they move the transaction to a laptop. Worst-case scenario? The consumer ultimately opts for another financial institution or a third-party provider.
To stay ahead of the curve and remain relevant with consumers, financial institutions should strive to make transactions easy. It isn't that difficult to type in account or payee information on a laptop, but think about the form factor of a mobile device. Entering all of that information on a smartphone's small screen – probably with your thumbs – can be cumbersome. Mobile bill capture pulls in relevant information while enabling the user to modify or override the information, including how much to pay.
How does mobile bill capture improve adoption of electronic bills?
Bill capture helps bridge the gap between the physical and digital worlds. People like receiving and keeping paper statements, but there are significant benefits to electronic billing – automated billing information, reminders and alerts – that bill capture provides. People can still receive a paper statement, and the system stores it electronically for two years – an important point for those who like to keep their statements.
Like e-bills, mobile bill capture provides important bill-due alerts. People look to their financial institution to help them manage their financial lives. Alerts help us do that. Remember, the organization that notifies the consumer about an obligation to pay is probably going to be the provider that processes that payment. Ceding that ground to a third-party provider is a recipe for reduced engagement.
What about other innovations? Will the smartphone be the hub of new capabilities?
It would be very shortsighted to say we've reached a plateau of how smart-device technology can better the customer experience or improve a financial institution's ability to serve its customers. In addition to the smartphone camera, look for significant innovation related to other device capabilities, including fingerprint identification and authentication, video chat and document capture. Innovative approaches to financial services leverage technology in ways no one's ever thought of before. Bill capture is just one example of that kind of innovative thinking.