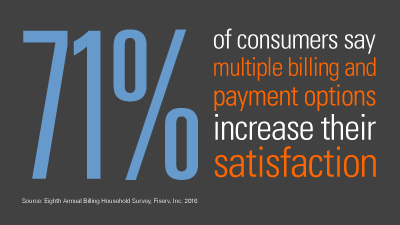 What makes people happy with their billers? According to the Eighth Annual Fiserv Billing Household Survey, offering a variety of ways to receive and pay bills leads to greater satisfaction with billers. In particular, consumers like digital methods that provide increased security and allow them to go green, reduce clutter and manage their finances.
The Billing Household Survey found three high-priority channels increase satisfaction and customer loyalty.
Multiple Billing and Payment Options

The link between payment options and customer satisfaction is stronger than ever. Seventy-one percent of respondents say being offered multiple ways to pay increases their satisfaction with a biller – a 65 percent year-over-year increase. The type and size of biller doesn't impact consumer expectations for multiple payment options. In fact, 79 percent of respondents expect local service providers to offer the same payment options as large national companies.

Electronic Bills

Sixty-six percent of respondents say receiving electronic bills makes them happier with their billers, and another 36 percent say it makes them less likely to switch to a competitor. With a majority of nonusers saying they are interested in receiving bills electronically, there is a significant opportunity to boost satisfaction and cost savings by focusing on e-bill adoption.

Viewing and Paying at Bank Sites

Sixty-five percent of respondents report increased satisfaction with billers when they are able to view and pay bills electronically at their banks' sites. Nearly half say it makes them less likely to switch to a competitor. Both satisfaction and loyalty measures are up significantly from the previous year's survey.
What Billers Need to Know
Multiple billing and payment channels, along with e-billing and the ability to view/pay at a bank's site, are inextricably linked to customer satisfaction, according to the survey. There are no workarounds: Consumers want options. Make safe, fast and convenient options available – delivered where and when people need them – and satisfaction and loyalty will follow.