Consumer choice, intuitive channels drive the evolution of billing and payments
When Patrick Howard discusses people's expectations for how, when and where they pay their bills and engage with companies, he repeatedly invokes one word: choice.
Consumers face daily time constraints, so they want convenience, speed and flexibility both in how they are billed and how they pay. They expect those experiences to be immediate and intuitive, and they expect their providers to know them and anticipate ways to help them.

Their preferences can change from month to month, with a consumer choosing to pay by phone to avoid a late charge and then through a billing organization's website. They want immediate confirmation of payment and access to an archive of past transactions.
Put simply, people expect freedom of choice, and if billing organizations can meet that single expectation in all its forms and across every touchpoint, they'll have a competitive advantage, Howard, a Fiserv vice president, said. If they fall short, they'll experience the downside of choice.
"We know we're living in a world of choice, and consumers can move from one channel to another with the click of a button," Howard said. "Billing organizations know they need to have a strong digital framework with data traversing every other touchpoint, or consumers will invoke choice."
With all those choices, payments are now central to the customer experience, not just in one channel, but in all of them, Howard said. Call it the Amazon effect, he said, in terms of convenience, speed, flexibility and ease of engagement.
That lesson wasn't lost on marketing executives surveyed recently by Gartner. The Customer Experience in Marketing Survey showed that 81 percent of executives believe that in the coming years, they will be competing on the basis of the customer experience. That number was only 39 percent in 2012.
So Many Channels, So Many Opportunities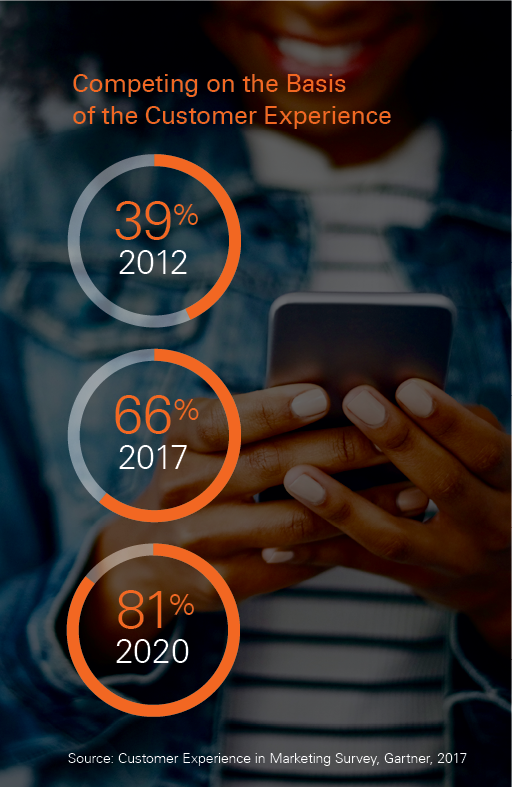 It used to be simple. Billing organizations had a 1-1 relationship with consumers, primarily by sending a bill in the mail and receiving a check in return, and whatever consumer insight there was to gain was right there in front of the organization.
But as channels proliferate, the gap between organization and consumer grows wider, said Wade Fairey, Fiserv senior vice president. The problem with competing on the basis of customer experience, he said, is the difficulty billing organizations have managing and capitalizing on those multiple channels.
It's too often the case, Fairey said, that organizations keep each channel in a separate silo, clouding any holistic view of customer behavior as well as forcing the company to react rather than anticipate customer actions. That approach lacks the intuitive experience people expect.
"You have consumers deciding which channel they will use," he said, "but you don't know where all the payments will come from. And you don't have a view of everything happening in those channels."
Managing each channel individually and in a silo, Fairey said, puts organizations at a threefold disadvantage:
1. Higher costs for channel management, staffing, compliance and security
2. Failure to create a free flow of customer data from one channel to the next and, by extension, only a limited view of customer preferences and expectations
3. Missed opportunities to strengthen relationships with customers, educate them about other channels and influence their decisions
Breaking Down the Silos
The internal separation through silos creates external separation, Fairey said, whether due to disparate legacy systems or an increasing array of add-on services that don't connect. For consumers, that can bottom-out the experience, forcing them, for instance, to use different log-ins for each channel.
Removing that separation can let organizations use consumer data from across all touchpoints to create a more personalized billing and payment experience, Howard said.
"Ultimately, the holy grail is if you're breaking down silos," he said, "you'll theoretically gain new insights into your customers."

For example, that insight can help organizations assess why customers might favor one channel over another at certain times, Howard said. Maybe a customer uses a particular channel, which might be a high cost to the organization, with the mistaken belief that other, lower-cost channels could lead to late payments.
With an understanding of why people make certain choices, Howard said, an organization can provide incentives and education to guide customers to other channels. But that strategy also requires a clear understanding of all channels and how they are used.
Understanding channels is the first step. Breaking down the silos, managing the channels and finding the most beneficial ways to compete on the basis of the customer experience are next.
How can organizations do it? Howard pointed to three main strategies:
1. Choice and Preference
First, evaluate the customer points of engagement and interaction and determine if those points meet the demographic needs of the customer base.
Assess the consumer experience across all of those points. The key, he said, is to determine if they are separate from or integrated with each other.
2. Enabling Technologies
Ensure the overall strategy accommodates engagement across all channels, both digital and physical. That approach positions organizations to use customer data across every channel, presenting that intuitive, immediate experience that fosters trust and retention, Howard said.
Design the billing and payments system for mobile-first, application programming interface-centric models for flexibility when new channels emerge. Change is happening faster than ever, so be prepared.
"Don't paint yourself into a corner," Howard said. "And if you partner with someone, partner with someone who follows those tenets as well."
For instance, if a new channel, such as voice, evolves, assess ahead of time how difficult it would be to implement. Is the partner's tech stack flexible enough to enable inevitable future change without disruption?
3. Improved Outcomes
Establish goals, Howard said, such as driving on-time payment behavior and reducing service disconnects. Then establish metrics to measure your progress toward those goals, making sure every key player from every channel has visibility into the process.
But above all, Howard said, check in with customers, gather their feedback and be prepared to evolve quickly to meet their expectations.
Creating an Intuitive, Integrated Process
The silos around channels aren't the only ones in billing organizations. Fairey said the same strategies billing organizations employ to integrate their channels also should apply to internal billing and payments processes.
That involves four key elements: prepare, present, pay and protect.

Traditionally, billing organizations use multiple teams and providers for each of the four steps in the process. The problem, Fairey said, is the left hand doesn't always know what the right is doing, or at least it doesn't always know what useful customer data the right may have.
"In the market today," he said, "a billing organization will hire one company to compose the statement and another to print it. Then they have to figure out who will present it, whether through email, text or some other channel."
Integrating the entire process, whether internally or through a partner, and making sure crucial customer data is available at every step, brings organizations closer to anticipating customer expectations, Howard said.
"If you have a bifurcated process for billing and payments," he said, "engagement falters and it's more difficult to gain insight into consumer behaviors."
Engaging With Customers at Every Touchpoint
Recognizing the need for a holistic billing and payments process across the organization and through every channel is the easy part, Howard said. After all, the engagement and finance leaders at billing organizations also are customers who want to receive and pay their bills on their terms.
The trick, Howard said, is finding a path to that holistic experience in a cost-effective way that doesn't rely on multiple teams and structures.
"I think what's going on is everybody is seeing in their daily lives how they or their loved ones are engaging in billing and payments, and they're taking that play to their organizations," he said. "Clearly, they see the possibilities for engagement. But they understand that if they don't embrace a holistic approach that enhances the customer experience, they'll lose business to those that do."
It's not that people are thinking about their choices, Howard said. They're thinking about solving a problem, whether it's avoiding a late fee or making a payment from a bus stop. The goal, he said, is to meet them at that point of thought.