Reports of the paper check's death have been greatly exaggerated. Most people still write and cash checks, even if they do it less frequently. Plus, with fewer checks in circulation, the checks people write and receive – and the funds tied to them – may be more relevant to how people live and work.
Expectations & Experiences: Household Finances, the most recent quarterly consumer trends survey by Fiserv, confirmed changes in consumer payment behaviors, including the infrequent use of checks as payments. However, 58 percent of consumers cashed a check in the three months prior to the survey.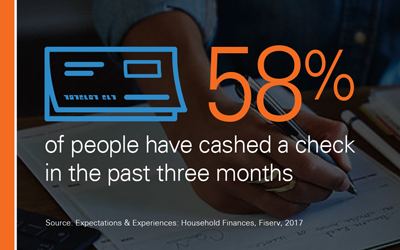 At the same time, the survey found more than two-thirds of people who cashed a check have, at some point, needed immediate access to funds from a check. In fact, 20 percent of check-cashing consumers and 21 percent of small business owners report they needed access to their check in the past month, according to the survey, which was conducted online by Harris Poll among 3,064 banking consumers in the U.S., including 290 small business owners.
Whether to pay for daily expenses, an emergency or other realities of life, people sometimes need and expect immediate access to cash from checks. The survey found check-cashing millennials (age 18 to 36) are more likely to need immediate access to funds in the past month than other generations – 26 percent compared to 18 percent for all other age groups.
In the same way, small business owners want immediate funds from checks to improve cash flow and keep their money working. The survey found 30 percent of small business owners say they need quick access to funds from checks to buy equipment or supplies necessary to operate their businesses.
Where People Go for Immediate Funds
To get quick access to funds from a deposited check, people have options other than their primary financial institutions, including another financial institution, a family member, an alternative financial provider or other source. When consumers begin to go elsewhere to manage their money, financial relationships may be eroded and important revenue is likely missed.
The good news? Sixty-four percent of people who have ever cashed a check say if their financial institution offered a check-cashing service, they'd use it at least occasionally if it offered immediate access to funds from checks.
Important Takeaways for Financial Institutions
Many consumers and small business owners may not know if their financial institution offers check-cashing services, and for good reason. Historically, many banks and credit unions weren't anxious to promote or provide those types of services. It became common knowledge that if you wanted a bill paid quickly or needed instant access to funds, you needed to go somewhere other than your financial institution to solve that problem.
Now that financial institutions can more securely and easily offer immediate funds availability, it's time to change that perception through marketing and promotion – and a focus on the needs of the consumer. Remember that branch banking at the teller line may be intimidating to some people. Self-service products and services, such as mobile banking and ATMs, provide needed privacy when seeking immediate funds.
What about risk? In a matter of seconds, a proprietary algorithm for immediate funds availability quickly processes information about the check and the accountholder presenting it. If the transaction is pre-approved, an offer for accelerated funds availability is made to the consumer. If the offer isn't approved, no offer is made. No one should ever receive an embarrassing decline. That kind of informed decision making helps protect the financial institution from loss while also providing a differentiated consumer experience.
Financial institutions understand the value consumers place on immediate access to funds – and know their customers and members are likely going elsewhere to find the service. And when they go to a nonbank provider to cash a check, they may continue to use that provider for other services such as bill pay or payroll advance. Offering immediate funds availability is an obvious way to begin to stop that erosion and help financial institutions recapture their consumers' entire financial relationships, solidifying their role as a trusted advisor for their accountholders.