People are looking for faster and easier ways to move their money. And for a growing number of consumers, person-to-person payments – P2P – are how they send and receive money to anyone, anywhere and at any time.
The most recent Fiserv quarterly consumer trends survey, Expectations & Experiences: Consumer Payments, found the share of consumers who have used a financial institution P2P service in the past 30 days rose by more than a third, growing from 14 percent in 2015 to 19 percent in 2016. Why are consumers using P2P? Fifty-four percent of users say it saves them time and the hassle of dealing with cash or checks, 51 percent cite convenience over cash or checks and 35 percent say it gives them added control. The survey was conducted by Harris Poll among 3,031 banking consumers in the U.S.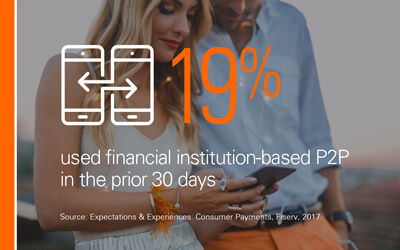 Financial institutions that can capitalize on increasing P2P use stand to reap bottom-line benefits. The survey found users of P2P services are more likely than nonusers to have more revenue-producing services with their primary financial organization. Specifically, 60 percent of P2P users, compared to 33 percent of nonusers, had six or more revenue-producing services, such as car loans, CDs and credit cards.
The Point talked to Steve Shaw, vice president of strategic marketing for Digital Banking at Fiserv, about the findings and what's next for person-to-person payments.
What's behind the growth in P2P use?
As people become more comfortable with using technology to manage their finances, they're finding services such as P2P may solve problems for them and make their lives easier. When more consumers understand they can pay someone without writing a check or going to the ATM, that awareness likely becomes a catalyst for growth. It's all about convenience and flexibility.
People who have grown up using technology – digital natives – are fueling growth in P2P. As millennials manage their finances, make payments and engage in various financial relationships, their first preference is likely to use technology. But older generations are also more tech-savvy now – and increasingly open to moving money digitally.
Rather than split-the-dinner-check types of transactions, many people use financial institution P2P transactions for bigger payments. Among consumers using financial institution person-to-person payments, top uses are sharing household expenses (9 percent), repaying a loan or debt to a friend or family member (7 percent), and paying or splitting the rent (6 percent). This may indicate that people feel more comfortable trusting their bank or credit union when sending a higher value payment.
Nearly half of nonusers of P2P say they simply prefer to pay for goods and services with cash, check or credit card. What can financial institutions do to encourage adoption among nonusers?
People are focused on who they're paying, how much, where the money comes from and when it needs to get there. A seamless, integrated banking experience brings payment experiences together to solve consumers' unique money movement needs, from paying who they owe to transferring funds. An integrated approach makes P2P simple by removing the service as a separate standalone solution or app. That's when person-to-person payments become ubiquitous – just another way to pay.
People have well-formed financial habits and preferences – and possible fees and security concerns keep some from using P2P. While there will always be a segment of the population that sees security as a barrier, it's important to note that only 21 percent of nonusers cited security as a concern – down from 29 percent a year ago. Such a significant drop could be a sign the service is better understood among nonusers than in the past.
What about real-time payment capabilities?
People expect money to move in real time. In the survey, 76 percent said real-time payment delivery is at least somewhat important to them. The latest P2P capabilities include real-time funds availability. Consumers can immediately withdraw those funds, make a payment on an outstanding bill or transfer money to another account.
What's the takeaway for financial institutions?
Think of P2P as a part of an overall money movement strategy – an integrated solution for your customers and members. Consumer branding and marketing for the Zelle® Network, which extends real-time P2P capabilities to financial institutions of all sizes, will bring greater awareness to person-to-person payments and likely increase adoption and use.
Talk to your customers or members about the benefits of person-to-person payments through their primary financial institution – their hub for financial services. Educate them about the speed, convenience and control P2P payments can deliver. Increased adoption and use will likely follow.
Consumers want faster and easier ways to manage person-to-person payments and they'll gravitate toward organizations that meet their needs – and earn their trust.
Interested in learning more? Download Expectations & Experiences: Consumer Payments, read Quantifying the Value of Digital Engagement and attend Zelle and the Future of P2P Payments at Fiserv Forum 2017.
Methodology
The survey was conducted online within the U.S. by Harris Poll November 7–30, 2016. A total of 3,031 interviews were conducted among U.S. adults ages 18 and older who met the following criteria: Someone in the household currently has a checking account with a bank, credit union, brokerage firm or other financial organization and has used their checking account to pay a bill or make a purchase in the past 30 days. The data was weighted to ensure that relevant demographic characteristics of the sample matched those of the U.S. General Population. All respondents (not only those who met the qualifying criteria) were weighted to U.S. Census Bureau demographic profiles for the U.S. population, age 18 and older on education, age, gender, race, income, region, marital status, employment status, household size and number of hours spent on the internet.