How does a community financial institution drive 34 percent annual organic growth at a time when average growth rates range in the mid-to-high single digits? For Open Bank, a Los Angeles-based community bank, it came down to a new vision for banking focused on its community and customer relationships.
By aligning its digital presence, branch footprint and products to the needs of its community, Open Bank grew from $206 million in 2013 to $901 million at the end of 2017. During this period, the company demonstrated its values and commitment by donating 10 percent of its net income to local nonprofit organizations.
A New Vision for Growth
The bank wasn't always in such an enviable position. Founded in 2005 under a different name, it came out of the economic downturn undercapitalized and with lagging profitability.
"We hadn't earned a dime," said Wesley Won, senior vice president and management information systems manager for Open Bank.
That began to change in 2010 when a new executive management team, led by Min Kim as president and CEO, joined the bank. The same year, the bank changed its name to Open Bank with a vision rooted in faith-based values to serve as a steward to its communities, customers and employees.
"It wasn't just our name that changed; we experienced a cultural shift – a paradigm shift – and that's when we started growing," Won said.
Open Bank's new executive management knew the market and were intent on building a Korean-American community-based bank focused on personal relationships. Kim saw the bank as an alternative to larger, similar banks that were consolidating and believed Open Bank could better serve small- to medium-sized businesses in the Korean-American community. According to Won, while the bank began with a Korean-American customer base, it's on the verge of using its expertise and programming to expand into other communities.
Building Relationships, Strengthening Communities
Implementing its new strategy of relationship banking took hiring the right people and reinforcing the bank's vision over and over.
"Our growth is based on building relationships and providing exceptional customer service," said Kathi Duncan, executive vice president and chief risk officer for Open Bank. "We want every customer to feel like a VIP at our bank, no matter their asset portfolio."
The bank signed with Fiserv in 2010 to enhance digital offerings and gain needed efficiencies. As part of its strategic plan, Open Bank changed the types of products it offered, increasing noninterest-bearing deposits as a percentage of total deposits to 37.4 percent at the end of 2017.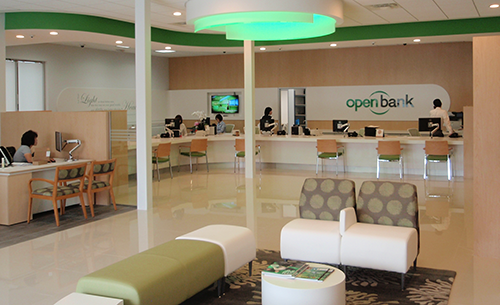 Opening and developing de novo branches, particularly in Korean-American neighborhoods, was also part of the strategy. The bank grew from one branch in 2012 to eight locations in Los Angeles, Orange and Santa Clara counties, with more to come. The look and feel of the branches is a departure from traditional brick-and-mortar, with bright, open spaces, café seating and a smaller size.
"Most mega banks are downsizing their brick-and-mortar," Duncan said. "We understand that, but for us, we need more branches. We need to expand our footprint to meet the financial needs of our customers and community."
Anne High, director of client advisory services for Bank Intelligence, Fiserv, said there are takeaways from Open Bank's growth story for other financial institutions.
"Open Bank found a need in the market and executed it very successfully," High said. "That included adding de novo branches, which can be a good growth strategy for financial institutions, especially when they fully understand their markets. Successful organizations find multiple ways to meet diverse customer needs and expectations."
While many financial institutions grow primarily through acquisition, Open Bank's growth has been entirely organic. From the start, its leaders have believed the markets in which they operate provide meaningful opportunities to expand the commercial customer base and increase market share. As its brand awareness continues to grow, the bank sees additional opportunities to drive loan and deposit growth.
"Organic growth was not a popular concept," Won said. "But somehow we broke through and blew up everybody's expectations."
Giving Back and Moving Forward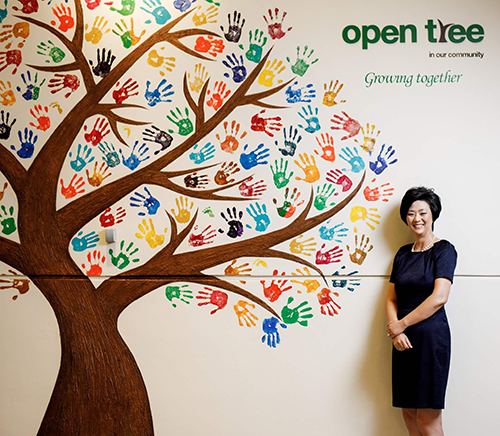 Open Bank set out to grow an organization based on Christian principles to its banking practice, including giving back to the communities it serves. In 2011, the bank established the Open Stewardship Foundation to actively support local civic organizations, schools and public services. That focus became a driving force for the bank's employees and customers – and a way to extend and strengthen the bank's ties to its communities.
"Our customers know as we grow, so do our contributions to their communities," Duncan said.
What's next? OP Bancorp, the holding company for Open Bank, recently completed its initial public offering and listing on Nasdaq. The bank expects that move will inject new capital to further propel its growth.
"Open Bank is proud of the growth we were able to achieve through perseverance and our attempt to change the market," Won said. "We are humbled."

This article is part of an on-going series featuring financial institutions' stories, setbacks and successes.