Seniors are making good – and perhaps unexpected – use of online banking options, according to Expectations & Experiences: Consumer Payments, the Fiserv quarterly consumer trends survey conducted by Harris Poll among over 3,000 banking consumers in the U.S.
 
Shattering the myth of Grandma standing in line at the branch, 72 percent of U.S. banking consumers age 70 and older say they use online banking. Seniors who've used online banking in the past month use the service with similar frequency to most other age demographics, logging in 7.3 times per month compared to a mean of 8.1 logins per month.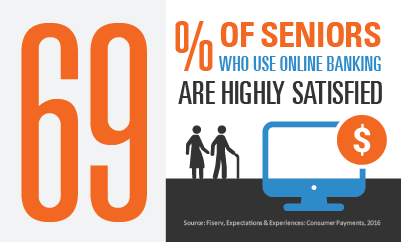 "Just like other generations, seniors want to be able to quickly and easily access their money, pay their bills and get on with their lives," said Steve Shaw, vice president of strategic marketing, Digital Banking, Fiserv. "Understanding how and when seniors leverage digital banking -– and their high levels of satisfaction with it – can help financial institutions effectively engage with this important consumer segment."
Seniors More Likely to Receive and Pay Bills Online
Interestingly, seniors who say they use online banking are also significantly more likely than banking consumers in general to report using online banking to pay bills within the past month. Seventy-four percent of seniors who use online banking said they paid bills online in the past 30 days. 
Perhaps most surprisingly, the study found seniors are the most satisfied with online banking – 69 percent rate it 9 of 10 or higher, while only 49 percent of all U.S. banking consumers rate their institution's online banking this highly.
For a little more evidence that seniors aren't quite as old school as people think, their views on authentication methods might be surprising. It turns out seniors trust retina scans (42 percent) as much as anyone, but they are far less likely to trust passwords as authentication methods – 25 percent of seniors say they would feel secure with passwords to confirm their identity when using a mobile app, compared to 41 percent of consumers overall.
What's Next
As for in-person transactions, seniors do still visit the branch. However, the next survey in this series, Expectations & Experiences: Channels & New Entrants, might deliver more surprises about seniors. To start with, seniors do visit the branch – 2.6 times per month, according to the survey – just not nearly as frequently as consumers between the ages of 25 and 35, who make 4.6 branch visits a month.
So, yes, Grandma does wait in line at the branch from time to time, but there's a good chance she's looking at her phone while she does it.