As more financial services activities shift to digital, account opening remains – for now – a branch-centric activity. Only 22 percent of people who opened a checking account in the last 12 months did so online, compared to 72 percent in the branch, according Expectations & Experiences, the Fiserv quarterly consumer trends survey. Contrast this with almost half of consumers who opened their credit card account online, and it seems inevitable that consumers' desire for speed, ease and convenience will accelerate demand for digital account opening.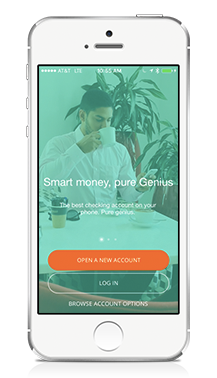 As institutions look for growth – especially among digital-native millennials – an exceptional online and mobile account-opening experience should be at the top of their agenda.
The ideal digital account opening experience does away with lengthy forms and unnecessary steps, and provides clear instructions and access to help. It also takes into account the fact that consumers may leverage multiple digital channels during the account opening process starting on a mobile phone, moving to a desktop and finishing at the branch on a tablet, for example.
A properly designed experience reduces frustration and increases the likelihood consumers will complete the account opening process. Gamification techniques, such as status indicators, keep the consumer on track and engaged.
At Finovate Spring 2016, Fiserv will demonstrate a new way of thinking about account opening and funding, from remote identification verification and instantly issued debit cards to video conferencing and funding new accounts with mobile check deposits. This innovative end-to-end approach leverages the mobile device to simplify and streamline the process.
Digitizing the account opening process might start where many consumers, especially millennials, spend most of their screen time – browsing social media. At Finovate, Fiserv is showcasing how it might work: A consumer is intrigued by a bank or credit union's new account offer on social media, downloads the financial institution's mobile app and decides to open an account. Using social media data and image capture, the consumer is able to easily prepopulate or enter personal credentials and verify identity before funding the account with a mobile check deposit. The offer is redeemed, the new accountholder enrolls in digital banking and is then incentivized to share the experience on social media – launching the cycle again with a new prospect. 
As a growing number of consumers forgo laptops, desktops and tablets for a mobile-first experience, it will be difficult to attract and retain these consumers if they aren't offered compelling mobile experiences, including digital account opening. Keeping mobile banking users happy is key, as they are among a financial institution's most valuable and profitable customers, with increased product holdings and transactions, lower attrition and higher average revenue, according to a 2016 Fiserv study.
By utilizing proven mobile banking and payments technologies, financial institutions can deliver a compelling banking experience across digital and physical channels. Most importantly, this approach to digital account opening helps consumers open accounts wherever and however they choose, transforming the way people are introduced to new banking relationships.