Rarely do new homeowners describe their mortgage origination experience as fast, easy or convenient. That may be changing as consumers grow more comfortable with digital loan practices – and lenders reset expectations on how to deliver a mortgage experience in step with the way people live.
It's now fairly common for consumers to have completed some aspects of the loan process online, according to the most recent quarterly consumer trends survey by Fiserv. The Expectations & Experiences: Borrowing and Wealth Management survey found 46 percent of consumers who have a loan have accessed their loan or lease statements online, while 42 percent have gone online to schedule payments. Forty-seven percent of consumers would be comfortable applying for a primary mortgage online.
And when thinking about future loans, many consumers are comfortable researching, applying for and managing their loans online, the survey found. Comfort levels with mobile are considerably lower, although younger consumers are far more likely to say they're open to using their smartphone or other mobile device for their loans.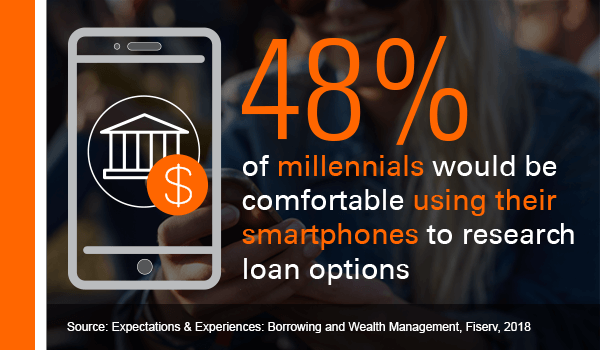 With those findings in mind, The Point talked to Lionel Urban, vice president of product management, Bank Solutions, Fiserv, about meeting ever-evolving borrower expectations for digital experiences – and what's next in mortgage origination.
The survey indicates borrowers consider the customer experience when choosing a lender. How have consumer expectations for the borrower experience changed?
For consumers, every digital interaction is stacked against encounters with Apple, Amazon and other companies that almost always get the customer experience right. Lenders are resetting expectations for how to meet new demands for digital origination and servicing capabilities. It's not enough to just have a website; being online now means having robust, mobile-friendly tools that help the borrower easily learn about the mortgage process, apply for a loan and connect with the lender.
Borrowers want to quickly and easily research interest rates, complete an application, submit documents, ask questions and check the status of their mortgage from a laptop or mobile device. And if they start an application on their smartphone, for example, they want to be able to switch to a different channel – online, in the branch or with help from the call center – and pick up where they left off without losing their information.
How has the expectation for speed changed in the mortgage origination process?
Speed matters a great deal in mortgage originations. People are trying to quickly move into a new home – and sellers may assess how fast a buyer can close as part of negotiations. If a borrower is refinancing, they're trying to save money or they have a purpose in mind for their equity.
Although closing times vary widely depending on the situation, most mortgages take 45 to 60 days – a timeframe that continues to shrink as digital capabilities enable a new loan origination process based on data rather than documents. For example, by scanning a driver's license, tax form or other document, forms can autopopulate and information can be automatically verified.
In a traditional, paper-based workflow, an average completed loan file has more than 600 pages. When lenders automate and digitize even portions of that process, it likely leads to shorter closing times, which can be a differentiator in the marketplace.
Getting a mortgage is one of the biggest transactions most people will ever complete. With that in mind, will mortgage loan origination ever be a completely mobile experience?
All the technology is in place to complete every step of a mortgage on a mobile screen. Challenges remain, however, for steps that require file documentation, a notary or other verification. Instead of delivering a completely mobile origination experience, a more realistic strategy today is one that adds options for parallel support, enabling digital or traditional capabilities throughout the process.
What may happen much sooner than a completely paperless, digital mortgage origination is streamlining the application from a borrower's financial institution. When a consumer is logged into a mobile banking app and applying for a loan, a financial institution can use all it already knows about the person to quickly approve an application. A borrower's sole focus would be on supplying property information and scheduling a closing date.
What's the takeaway for lenders from these findings?
Focus on those moments when the borrower experience matters most. Employ mobile responsive design to tailor information for smaller screens. Make it easy for consumers to communicate with you in every channel. Reassure consumers that every safeguard will be taken to keep their information safe. No matter the channel through which a borrower completes an application, provide a high-touch mortgage origination experience.
People are used to easy online and mobile experiences, and they have those same expectations when applying for a mortgage. Providing holistic, integrated digital lending capabilities will help meet borrowers' changing behaviors, preferences and demands.
Methodology The survey was conducted online within the United States by The Harris Poll June 13–29, 2017. A total of 3,095 interviews were conducted among U.S. adults ages 18 and older who met the following criteria: Someone in the household currently has a checking account with a bank, credit union, brokerage firm or other financial organization and has used their checking account to pay a bill or make a purchase in the past 30 days.