Not only is mobile now a must-have channel, a new Fiserv study links mobile banking to bottom-line results and revenue – and quantifies the value of maximizing adoption and usage.
The aggregated analysis of select Fiserv clients of varying asset sizes – eight credit unions and nine banks – assessed the impact of mobile banking adoption on five key areas: product ownership, transaction frequency, interchange revenue, branch usage and retention. Fiserv examined consumer behavior in the three months before and three months after enrollment in mobile banking and found mobile usage had a positive impact on revenue.
Mobile banking users generate more revenue than nonusers in part because they own more products and conduct more transactions, generating revenue from interest and interchange. When consumers have immediate mobile access to financial information, it likely influences additional transactions. Mobile banking users are also less likely to visit a branch for simple transactions they can take care of on their mobile device – and less likely to take their accounts elsewhere.
Compelling ROI Projections
What would happen if financial institutions increased their mobile adoption rates beyond current rates? The financial institutions in the study reported mobile adoption rates of 10 to 14 percent of their total customer or member base. To calculate incremental value, Fiserv compared current metrics to potential incremental returns from increased adoption of mobile banking, based on an adoption rate of 30 percent of the total customer or member base.
Why 30 percent? Major financial institutions report mobile banking adoption rates of 30 percent or higher of their total customer base – a benchmark that is also realistic for community institutions that invest in the mobile channel.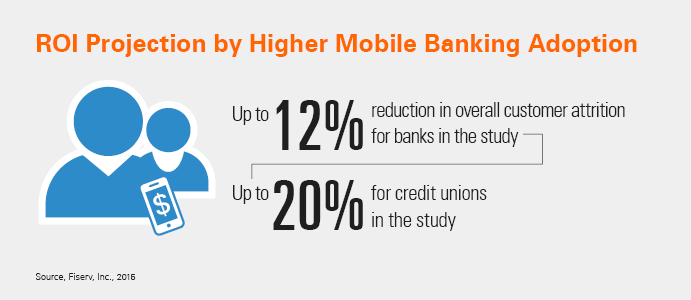 Based on higher mobile banking adoption, Fiserv found compelling potential ROI projections for the financial institutions in the study:
Up to $2 million in incremental annual revenue per bank in the study and up to $1.6 million for credit unions
Up to $38 million annually in incremental point-of-sale purchases with proportional increase in interchange fees per bank in the study and up to $8 million for credit unions
Up to 12 percent reduction in overall customer attrition for banks in the study and up to 20 percent for credit unions
Potential cost savings from decreased branch traffic
Strategies for Driving Greater Mobile Banking Adoption and Usage
Financial institutions that offer innovative solutions like mobile deposit capture, actionable alerts and person-to-person payments are likely to see a corresponding lift in mobile banking adoption and usage. With every interaction or transaction made on a mobile device, digital engagement increases.
It's no longer enough to simply offer mobile banking. Consumers expect a wide range of mobile banking features and the user experience they've grown accustomed to on other mobile apps – and they are apt to switch financial institutions to find what they want. Innovations that use the unique attributes of mobile devices, including the camera, GPS location-based services and biometric authentication, will continue to drive greater mobile adoption and usage.
Consumers are moving from physical cards to digital, and as they grow more comfortable with mobile point-of-sale payments, financial institutions must keep pace by enabling mobile services that are fast, convenient and safe. Services like mobile card management, which allows cardholders to monitor and control how, when and where their cards are used, will become increasingly important.
Proactively marketing the strong value of mobile banking products and features directly to customers and members will help bolster adoption and usage. For example, financial institutions can cross-sell mobile banking with promotions that display when consumers log in to online banking or bill payment. Smart-app banners can direct customers who go to a bank's website with a mobile device to the more user-friendly mobile app.
Engaging front-line staff in the promotion of mobile banking is also key. When debit cards are issued, accounts opened or questions about online bill pay are asked, it's a good time to talk about mobile banking. Social media channels also play an integral role in any mobile banking marketing campaign. Financial institutions should use every means possible to tell how mobile banking is relevant to consumers' needs, challenges and lifestyles.
The value of mobile banking users is incrementally higher. However, if a consumer enrolls in mobile banking and never uses the channel, that value is lost. Financial institutions that want to recognize the highest return on their mobile investment encourage mobile banking adoption at every turn and once consumers are enrolled in mobile banking, focus on increasing their adoption and usage to drive greater digital engagement and revenue.