In a country where mobile devices outnumber people, Bangkok Bank knows its mobile banking applications must meet the needs of its 1.3 million mobile customers, wherever and however they live. With new mobile banking functionality, customers can easily access financial services via a mobile phone, tablet or the Apple Watch®, and receive peer-to-peer (P2P) payments and advanced push notifications directly through the bank's app.
The Point asked Ian Gillard, executive vice president, Bangkok Bank, about the bank's customer-centric approach to innovation, which includes the bank's mBanking service.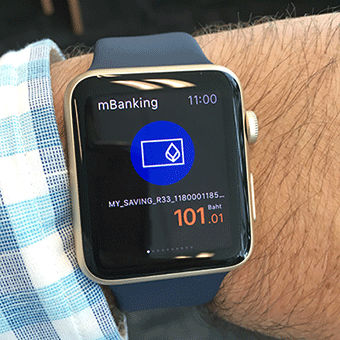 What challenges does digital banking solve for your customers?
In Asia, most people have jumped past desktop internet access and gone directly to mobile. In this environment, it's critical to provide superior mobile banking services and new digital experiences that are fast, secure and easy to use. People are using digital banking to save time and keep their finances on track, and this is supported by wearable technology. It's easy to see what they owe and use actionable alerts to pay bills or manage finances. Our research indicates customers will also appreciate geo-based alerts that tell them they are near a business or store with a special offer.
What has Bangkok Bank achieved with its digital banking strategy that has been the most beneficial?
We've experienced all the drivers of success – increased revenue, decreased cost and risk, and an improved competitive position in the marketplace. Mobile banking adoption rates are now more than 50 percent of eligible customers. Previously, our customers used the mobile banking app three or four times a month, but now our average user has 28 interactions with the bank per month – a number that continues to increase. Every interaction with a customer is a chance to better understand our customers and to sell or serve their needs. As we continue to extend product functions, we can see how well each feature meets consumer needs. It's a matter of continuous learning and innovation.
With mobile banking, Bangkok Bank, in effect, brings the branch to the customer. Apart from dealing with physical currency, people should be able to do all their regular financial transactions through mobile and online banking 24/7, as branches become the place for higher-value, more complex needs like insurance and investment advice. Moreover, mobile devices allow some functions which are not possible even in the branches, such as location-based offers, contactless payments and integration with external data sources, such as maps.
What is your advice to other financial institutions around the world?
Listen closely to customer feedback to help you prioritize mobile banking development and innovation and pay close attention to the user experience. Think in terms of customers and making their lives easier, like single sign-on for online and mobile banking, combining capabilities into one app whenever possible, and allowing wire transfers through mobile.
Focus on ease of use, security and making your application fast. We compare ourselves to popular mobile applications, particularly applications that people use every day, as now the average customer uses our mBanking daily. The app must be intuitive, and security must be pervasive but unobtrusive.  Only by making the experience enjoyable and easy will we be able to encourage customers to continue to adopt digital channels, including our mBanking service.
Until recently, banks controlled transaction processing volume rates. Even with a continuous increase in investments in physical locations, such as ATMs, branches and kiosks, we still could never prevent customers from having to wait in line at peak times. With our digital channels, customers can now effectively perform their banking whenever and wherever they want, which is completely changing the patterns and volume of transactions throughout the day.
From the beginning, we planned for peak usage, which can be up to three times higher in Thailand than in the U.S. or other countries. To ensure our system can scale to support more users, new services and peak usage, we replaced or updated everything but the core systems. We continue to invest in mobile banking and other digital products, where customer acceptance is high and the cost-to-serve is less. Most importantly, financial institutions should focus on delivering feature-rich mobile services that make financial services faster and easier for your current and potential customers.