Living life in the fast lane means people want to access their money – and information about it – as quickly as possible. "Real time" is an often used industry phrase to describe faster money movement and management but what exactly does it mean to consumers?
When it comes to financial transactions, 69 percent of households define real time as immediately or within a few seconds, according to the household finances module of Expectations & Experiences, the Fiserv quarterly consumer trends survey conducted by Harris Poll among more than 3,000 U.S. banking consumers. Just 11 percent of households surveyed equate real time with same-day results. And there are generational differences. Fifty-three percent of Generation X say real time means immediately, while 29 percent of seniors define real time as same day.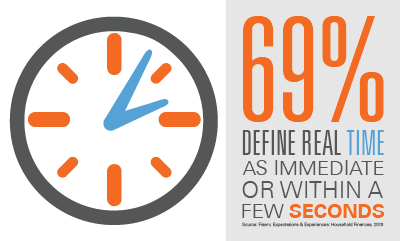 "Consumer expectations for speed are being reset by broadband technology experiences, and people don't understand why moving money should be any different than streaming on Netflix," said Matt Wilcox, senior vice president, Marketing Strategy and Innovation, Fiserv. "People expect options for real-time money movement – for funds to be credited immediately. Their patience for anything less is approaching zero." 
The Need for Real-Time Money Movement
The clock is always ticking – 1 in 4 households (26 percent) admits to not having enough time to manage finances the way they want. That may be behind the strong desire for real-time solutions, as well as easy-to-use, intuitive financial management tools that make life easier. Those who spend more time on their monthly finances especially emphasize the need for speed and ease.
Deposits, transfers and payments top the list of services consumers want completed in real time. Seventy-five percent of households – and more than 80 percent of millennials – want real-time balances on all their accounts, including pending transactions, and 72 percent want instant posting of transactions. Real-time access to financial information is seen as the most helpful resource for managing their finances by 28 percent of households. Not surprisingly, households juggling accounts at multiple financial organizations are more likely to find real-time financial information helpful.
Faster is better, according to many households in the survey, especially millennials. Thirty-nine percent of all households (53 percent of millennials) wish the financial management tools available delivered faster results, and 37 percent wish those tools kept up with their busy lifestyles.
Consumers are growing accustomed to real-time experiences – making connections, downloading music, managing travel – and they want the same immediacy in their financial lives. The push for financial tools and services that make managing money fast, easy and secure will only escalate as digital banking matures. It's simply a matter of time.