This is an exciting time for the financial services industry. As innovative technologies and evolving consumer expectations have transformed the sector, financial service providers have increasingly realized the importance of investing in the ultimate well-being of their customers and members. And they have begun to subtly, but powerfully, re-orient their businesses around consumers' financial health.
 
My organization, the Center for Financial Services Innovation (CFSI), is a non-profit that leads a network of innovators committed to building high-quality financial products and services. The members of our network represent companies large and small, legacy and startup, incumbent and disrupter. Each has realized the old way of doing business has become obsolete. Instead of competing on bank branch locations, interest rates or fees, these companies have come to appreciate that they will only succeed if they help their customers and members lead financially healthy lives.
What is Financial Health?
At CFSI, we define financial health as coming about "when your daily financial systems help you build resilience and pursue opportunities." What you do today is intimately connected to your ability to be resilient and seize opportunities over time. While an individual's financial health is tied to their attitudes and behaviors, it can also be shaped by access to high-quality financial products and services.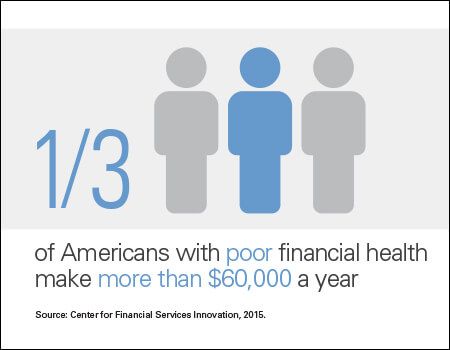 It would be easy to assume financial health is simply the result of having high income. Yet we've found that not all who struggle financially are low-income. In fact, a 2015 CFSI report found a third of Americans with poor financial health make more than $60,000 a year, while a third of Americans who are financially healthy make less than $60,000 a year. Financial health is about more than just income; access to high-quality, low-cost financial products, services and advice also matters.
But it's more than just a question of access. At 57 percent of the population, the number of Americans who are struggling financially is larger than the number of individuals considered unbanked or underbanked by the FDIC. The challenge is not simply a question of access to financial services, but rather a question of access to the right kind of financial services – financial services designed with the interests of the customer at heart, and which align provider profitability with consumer success.
The Business Case for Financial Health
In 2015, underserved consumers spent approximately $141 billion on alternative financial products and services. From 2014 to 2015, overall revenue for this market grew by $7.8 million or nearly 6 percent. In 2016, the market is projected to expand 2.1 percent to $144 billion. Financial service providers that offer innovative, affordable and high-quality products have a tremendous opportunity to expand their customer base, capture additional revenue and increase customer lifetime value.