People have groceries to pick up, bills to pay. When a card is lost, stolen or compromised, getting a new one as quickly as possible – and moving on with life – is all that matters. Issuers are meeting this need for immediacy by using technology to hand over cards in a matter of minutes.
For many financial institutions, instant in-branch card issuance complements central card issuance – mailed cards – enabling consumers to walk out of a branch with an activated debit or credit card, including EMV™ chip cards. Among debit card users who received a new card in the last year, 1 in 5 picked up their card in a branch, according to new research from Fiserv.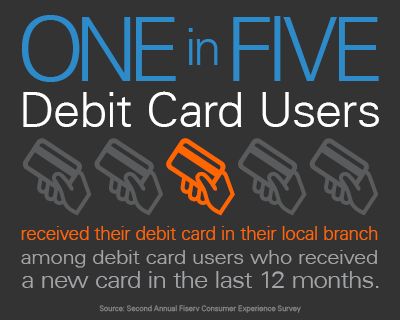 What's fueling this trend? Increased data compromises and incidences of identity theft have necessitated unscheduled card reissuances. At the same time, financial institutions are turning to instant issuance to stay ahead of the demand caused by the ongoing migration to EMV technology. Instant issuance gives consumers immediate access to the enhanced technology and security capabilities of EMV.
The Consumer Experience Survey from Fiserv looked at consumer preferences for channels and payments, including how consumers view instant card issuance. Several key trends emerged.
Among all millennials, 22 percent received their most recent card in a branch
48 percent of all debit card users and 63 percent of millennial debit card users think it's important to receive debit cards in a local branch
Credit union members have adopted instant issuance for debit cards at slightly higher rates (25 percent) compared to bank customers (13 percent) over the past two years
38 percent of debit card users are unaware instant issuance is available at some financial institutions
Among all debit card users, 36 percent say instant issuance would influence their choice of financial institution – a number that jumps to 47 percent for 18- to 24-year-olds
82 percent of respondents who received an instant issue card from a bank or credit union received a permanent card; 17 percent received a temporary card, followed by a mailed permanent card
For financial institutions, adding instant issue capabilities requires investment and coordination of resources, but can lead to increased revenue opportunities, such as attracting and retaining customers, improved customer satisfaction, and cross-selling additional products and services. A mix of central and instant issuance creates a positive experience for accountholders and meets consumers' increasing expectations for immediacy.