Cash flow issues can sometimes get the best of all of us, including small businesses. Life's realities – employees who need to be paid at the end of the day, supplies that have to be purchased before the job is done – can send small business owners scrambling. Immediate deposit availability can fill this important need.
If financial institutions are unable to provide immediate access to funds from check deposits, they may be sending good customers down the street to other banks or alternative financial service providers. A recent Fiserv study of the check-cashing behaviors of consumers and small businesses found 20 percent of bank customers are taking their checks elsewhere to get immediate funds availability.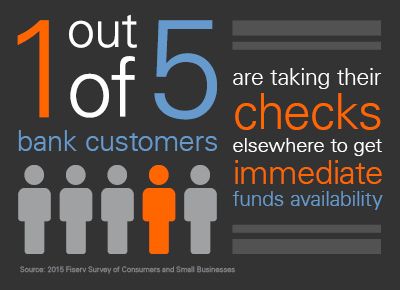 Most customers, however, would prefer to use their financial institution for the service. When asked about accelerated funds availability at their financial institution, 58 percent of those surveyed said that option was extremely appealing. Of small business owners who find this service extremely appealing, 56 percent said they would use it at least once a month.
Why the small business interest in immediate funds availability? Small business owners' money is always working. As soon as they get a check for a job, they may need to turn around and pay a bill or make a purchase. Supplies may be needed upfront for a project, such as catering, construction and landscaping jobs, or a major piece of equipment may need on-the-spot repairs. Thirty-seven percent of small businesses say they need quicker funds to pay for unplanned business expenses, while 23 percent need funds to pay for routine business expenses on time.
Sixteen percent of small businesses say they need immediate deposit availability to pay employees on time. Some employees expect cash at the end of the workday, and often can't wait for a business' incoming check to be deposited and clear before the employee can use the funds.
Small business owners may prefer self-service channels in addition to the teller line. For this group, an immediate funds solution that includes an option to conduct transactions privately, such as through mobile banking or the ATM, would be more attractive.
Financial institutions that provide immediate funds availability stand to benefit in several key ways, including improved share of wallet and differentiation for small business customers. Customers who use immediate funds availability are often among a financial institution's most active users of self-service channels, and therefore most profitable. In addition, financial institutions can take advantage of this new, untapped revenue stream opportunity, while providing a quality customer experience.
Providing immediate access to funds from check deposits will help ensure financial institutions deliver the services and experiences customers want and expect – and help preserve important banking relationships. Customer demand will likely accelerate delivery of immediate funds availability by financial institutions. By offering real-time funds availability when it matters most to small businesses, financial institutions can keep themselves at the center of their customers' financial lives.
On March 17, 2016, Fiserv received a PYMNTS Innovator Gold Award for Best Check Innovation for its solution, Immediate Funds℠ from Fiserv. With Immediate Funds, financial institutions can offer customers immediate access to funds from checks deposited through a teller, a mobile device or an ATM. The solution utilizes a patented decision engine to help determine funds availability, while providing protection against return losses and greatly improving the customer experience.