The traditional branch is transforming, offering new ways to engage with today's consumers – many of whom still want to visit the branch. In fact, 69 percent of millennials view the traditional branch as a viable channel for conducting financial business, according to Expectations & Experiences: Consumer Payments, the Fiserv quarterly consumer trends survey conducted by Harris Poll among over 3,000 banking consumers in the U.S. 
But how do financial institutions effectively engage with today's "right here, right now" consumer? Building a sales strategy around a universally common digital device – the tablet – is a great place to start.
Tablets can provide a tremendous advantage to financial institutions eager to differentiate themselves in the market, accelerate the digital acquisition and onboarding processes and truly connect with today's digitally-invested consumers. The sales-enabled tablet quickly removes obstacles and pain points, while helping financial institutions deliver a next-generation digital experience.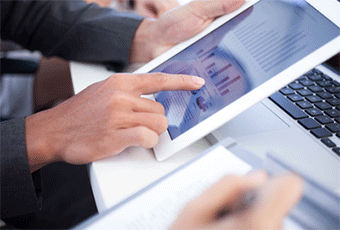 As consumers grow accustomed to the visually appealing, interactive experience offered by digital technology, tablets and mobile sales solutions are quickly replacing paper-based sales tools. Anyone who has entered an AT&T or Apple store has been greeted by a salesperson with a tablet – ready to answer questions, demo products or just start the conversation. Tablets could have a similar transformative effect on the retail banking sales process, eliminating slideshow presentations and outdated brochures.
Rewriting an Old Story

The story financial institutions are telling is an old one – a deposit is still a deposit, a loan is still a loan. Tablets can help organizations rewrite the story and fully engage with prospects sitting across the table. Carrying only a tablet equipped with a dynamic mobile sales tool, bank personnel are now able to walk into a prospect's home or office, learn their needs and discuss how the bank or credit union can help. Tablets facilitate a shoulder-to-shoulder conversation that leads to a more consultative, collaborative and personal sales experience.
These sales interactions can be further enhanced with video, return-on-investment and pricing calculators, interactive graphics, product or case study materials, and information-sharing via email – all facilitated right from the tablet. Sales-enabled tablets make closing the deal easier for everyone with on-screen contract presentment, digital signatures and camera utilization, and integration to customer relationship management and enrollment systems. 
Using a tablet in a sales environment has numerous benefits.
Gain efficiency. Having all sales collateral and materials preloaded into a tablet sales tool promotes an efficient, more productive sales force.
Improve training, reduce costs. With all training materials stored in the sales tool, training is easier. Any updates to the material happen quickly and easily so everyone is instantly privy to the updated material, eliminating outdated or incomplete information and costly retraining.
Strengthen sales through intelligent tracking. Which product or service pages drew the most customer attention? Where does the sales executive need to focus on future sales engagements? With intelligent tracking, the answers to key questions are easily accessible in the sales tool.
Make quick editorial marketing changes. Easy access to all copy and collateral enables messaging modifications, graphic and animation updates and price changes.
Go green and save green. Tablet sales tools eliminate the need to print, distribute, store and destroy paper collateral. That's a win for the organization and the environment.