People want to pay their own way – and in their own time. That's evident in the wide variety of options consumers use to manage their payments. Whether they use mobile or online bill pay, person-to-person (P2P) payments or even the occasional check, people want payment options that seamlessly fit how they live and work.
Expectations & Experiences: Consumer Payments, the most recent quarterly consumer trends survey by Fiserv, found continuing shifts in mobile and online bill pay and other digital payment options. The survey, conducted by Harris Poll among 3,031 banking consumers in the U.S., highlights several trends.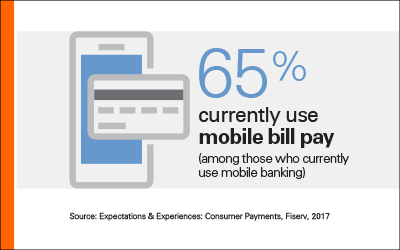 Digital Options Create Opportunity
Adoption of online and mobile banking seem to be entry points to other digital services, including bill payment. As adoption and use of online and mobile banking increases, bill payments in those channels are expected to see corresponding gains. Seventy-four percent of online banking users take advantage of online bill pay, and 65 percent of mobile bankers use mobile bill pay.
Online and Mobile Bill Pay and Biller Direct Lead the Way
Online and mobile channels now comprise the majority of all bill payments. In the month preceding the survey, 32 percent of bills were paid through a financial organization's online or mobile bill pay services, and 27 percent through online or mobile channels through biller websites.
Millennials Are Super-Users
Millennials (ages 18–36) embrace every possible way to pay. From online banking to mobile bill pay and digital wallets, the age group is more likely to have used every common digital payments service in the past 30 days compared to their older peers. They're approximately three times more likely than other generations to have used mobile bill pay, P2P payments and digital wallets, as spelled out in Expectations & Experiences: Consumer Payments.
P2P Is on the Rise
Since 2015, the share of consumers who have used P2P in the preceding 30 days has increased by more than a third; 19 percent used the service in the prior 30 days, up from 14 percent in 2015. Based on the survey, current P2P users use the service because it saves time and the hassle of dealing with cash or checks (54 percent), is convenient to pay without cash or checks (51 percent) and provides greater control (35 percent).
Digital Wallets Are at an Early Stage but Picking Up
The Expectations & Experiences: Consumer Payments survey details how millennials, consumers who live in urban areas and high net worth individuals are using digital wallets at higher rates than the general population. Consumers who use digital wallets are more likely to store information for credit cards (45 percent), debit cards (41 percent), gift cards (37 percent), loyalty programs (30 percent) and coupons (28 percent), than personal data.
To learn more, download Expectations & Experiences: Consumer Payments and read Trends 2017: Digital Banking.
---