As digitization has revolutionized financial services, new online and mobile tools have made financial advice and planning services more accessible to everyone. Now, advances in artificial intelligence (AI) promise to deliver a second big bang to the wealth management universe, making it even easier for consumers to assess their financial health, make investing decisions and plan for long-term goals – on their own and in their own time.
For financial institutions, advancements in machine learning and AI could create opportunities to expand customer relationships, deliver better advice and lower their costs. Using these capabilities to facilitate financial education is a good first step, followed by enhancing financial planning and monitoring customers' progress toward their goals.
Already, the major players in wealth management are offering financial literacy content through their websites and have introduced robo-advisors to guide investing decisions. And the nation's largest banks are rolling out voice and text bots that use machine learning to offer tailored suggestions for customers to improve their finances.
We are not far from the day when customers will be using voice banking to ask for the balance of an investment account or what long- and short-term capital gains can be taken to optimize tax efficiency.
The Promise of Robotic Process Automation
As a next step, robotic process automation (RPA) can be used to manage mundane and repetitive processes, freeing staff members to focus on higher-value activities. In simple terms, RPA is the programming of machines to mimic the way humans manage tasks, and it's one of the more mature elements of AI today.
RPA has the potential to create frictionless client onboarding and improve middle- and back-office operations and processes. RPA can be especially beneficial in asset management, which requires the processing of vast amounts of data. Re-engineering is taking place in wealth management that mirrors improvements in the manufacturing industry, which have resulted in greater automation and better efficiency, design and safety.
Using AI to Improve Performance and Returns
Advanced AI algorithms will also be used to help financial service providers do a better job of investing and managing portfolios in terms of tax efficiency, rebalancing, and creating other value-adds that improve performance and returns. While people are good at recognizing patterns, we're also good at missing them. AI solutions, on the other hand, are naturally built to solve data analysis problems. Machines can be fine-tuned to distinguish real patterns from noise, compile pertinent data and produce meaningful insights – faster and more effectively than any person could. And those solutions will one day become self-learning.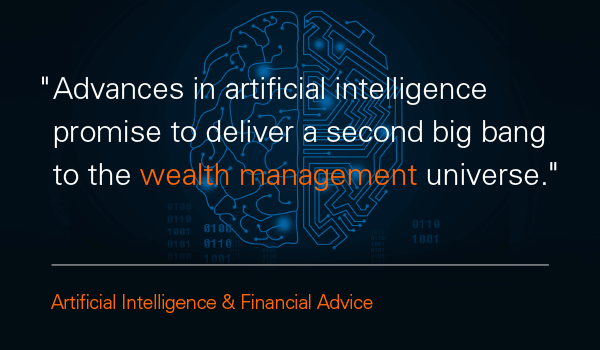 AI solutions could deliver advice that takes into account a customer's overall financial position, their complete financial history, demographics and detailed financial habits. Information that isn't already known can be asked and recorded for future interactions. For example, a chatbot could pose a few questions to find out more about a person's goals. Those brief interactions might lead to an appointment with an advisor or to presentation of a qualified offer for a product that could save consumers money.
As these capabilities continue to advance at a rapid pace, financial institutions should consider how AI impacts their strategies. AI, machine learning and robotic-driven interactions can lower costs and create new efficiencies for financial institutions while delivering smarter advice for customers – whenever and however they wish to receive it.