Most people don't feel great about their finances. Spending, saving and making good decisions about money can be difficult, even if you're not living paycheck to paycheck.
 
And feeling satisfied about your financial health? Sometimes that's even tougher. Just 37 percent of consumers say they are satisfied with their financial health – well behind their ratings for their emotional and physical health and social lives – according to Expectations & Experiences: Household Finances, the most recent quarterly consumer trends survey by Fiserv.
We talked to Virginia Heyburn to learn how the financial industry can help consumers improve their financial health and what banks and credit unions can glean from the study. Heyburn, vice president of strategy for Global Sales for Fiserv and a former TowerGroup analyst, advises financial institution executives about industry and consumer trends, business drivers and technology innovations.
Nearly one in three consumers consider managing their finances a burden. How can financial institutions ease that concern?
Consumers are accustomed to easy, fast and integrated mobile and online experiences as they shop, travel or make social connections but have highly fragmented financial relationships – accounts, cards, loans and investments with several institutions – that make it difficult to manage their household finances. It's not simple, not fast, not digital and, as a result, not easy to maintain visibility over transactional information or gain any holistic financial insights.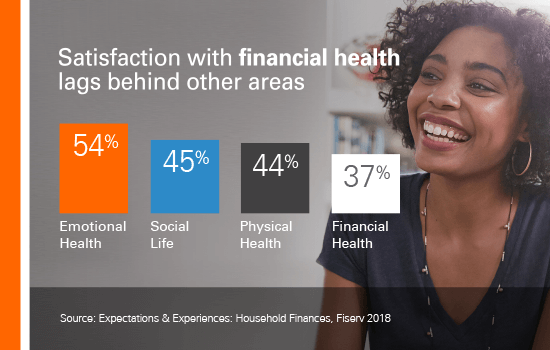 But what if we could track our financial health as easily as the steps we take each day? A comprehensive view of personal finances like that requires financial aggregation and the ability to move beyond simply displaying transactional data to becoming advice-driven service providers. Software applications can aggregate some of your financial data, but that's not enough. Consumers want help making sense of the information in real time to enable sound money decisions and improve financial health. That's guidance banks and credit unions are in the best position to give.
What's driving the demand for greater financial health?
There's the potential for many people to thrive financially in today's economy, but of course, not all consumers are doing well. That gap in the marketplace is really what stood out to me in this research.
Of course, there are underlying issues – spending too much, saving too little – but let's also think about what consumers need to help them better manage their finances. That's where I think our industry can really make a difference.
The research found 38 percent of consumers would have trouble paying back a $500 loan if they had to do it today. What does that say about how many of us are living our financial lives?
People from all socio-economic backgrounds can live on the edge financially. A few simple changes in financial habits could make a big difference. But has our industry done enough to inspire those changes?
Many financial institutions do a good job encouraging financial literacy – educating consumers as they prepare to buy a home, for example. However, we need more education and guidance earlier in the customer life cycle. It's about inspiring an instinct to save rather than spend.
Can financial institutions do anything different to improve the financial management experience for consumers?
Technology for the sake of technology doesn't go very far. Instead, think in terms of how advanced technology, including real-time payments, advanced analytics, aggregation tools and artificial intelligence, adds meaningful value and improved financial health for consumers.
Our industry provides outstanding digital services to help people easily spend their money; let's also focus on innovation to help consumers keep their money and improve their financial health. For example, advanced analytics can help banks and credit unions anticipate consumer needs and habits and suggest better ways to manage money, make payments and meet financial goals.
 
Loyalty to a bank or credit union will not be engendered by transactional banking, but instead by delivery of meaningful, real-time and actionable advice to consumers. Providing the guidance and tools people need to better manage their financial health is our industry's next preeminent challenge.