Using data and account information, a bill pay system could also find all the bills a person regularly pays and offer to set up recurring or one-time payments, auto-populating the selections with personalized account information.
The user interface is critical for success in this new payments experience. It should be optimized for small screens and intuitive for users when they log in to online banking. With multiple payment options, consumers are drawn to those that offer the best experience and are more likely than ever to switch if they find a better, more immediate way to pay.
That includes biller direct sites. The percentage of online payments made on biller sites grew from 62 percent of online bills in 2010 to 73 percent in 2016, according to a 2017 Aite Group study. To compete, provide a payment experience that's just as easy as those sites, including fewer clicks, personalized account information, automated payment options and bill-due alerts.
Paying bills with a financial institution is inherently easier than going to multiple sites with multiple user names, varied security policies and fragmented billing and payment history. If banks and credit unions offer an exceptional bill pay experience, they'll likely remain a go-to place for managing and moving money.
A Growing Comfort With Data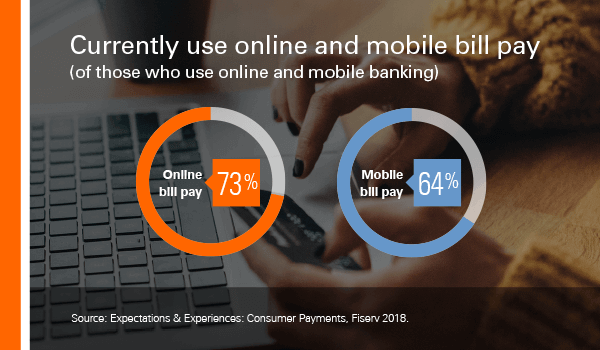 Consumers are more aware of and comfortable with financial institutions using information about personal preferences, habits and behaviors to make personalized, contextually relevant payment suggestions. In a recent Fiserv survey of bill pay users, 72 percent said they would be interested in a feature that would present a list of bills from companies they do business with, without requiring entry of additional information.
For financial institutions, the audience is already there. Among those who have actively used online banking in the preceding 30 days, 73 percent used it to pay bills, according to the 2018 Expectations & Experiences: Consumer Payments quarterly consumer trends survey by Fiserv. And 64 percent of mobile bankers used mobile bill pay in the same timeframe.
Becoming an Advisor
By leveraging the data you already have, your organization can advise consumers about what they need to do and caution them about problems they may run into. Are they at risk of missing an upcoming payment? Is there a scheduled payment that will cause a potential overdraft?
Through mobile notifications and push alerts, notify customers and members of important financial information. Give people messages immediately so they can take action right away. The more you can simplify financial routines and provide reassurance that their needs will be met, the more your organization will become an active advisor in people's lives.
First in Line
Consumers will pay the way it's most convenient and secure for them. A simple data-based bill pay experience enables your financial institution to be first in line for accountholders' digital payment needs. Using available data and other assets will positon your organization to provide the best possible bill pay experience, from quick and easy setup to alerts that stave off late fees.
The proliferation of recommendation engines is having a profound effect on consumers' expectations. People will continue to look for experiences that advise them at every step, directing them and easing decision making. To remain the primary way consumers choose to pay, exceed consumers' expectations by capitalizing on the advantages only you can offer.