Drive growth and new revenue with a fresh approach to commercial services
With a surging economy, a favorable regulatory environment and increasing pressure to drive growth, more financial institutions are targeting commercial business to find entirely new revenue. According to the experts, commercial opportunities abound in lending, payments and treasury management, but the road to success requires attention to new realities.
Businesses' expectations are high for an intuitive, immediate and inspired banking experience – the same seamless digital experience people are used to as they shop, connect and manage their lives. And competition for commercial banking business, including deposits, is getting tougher thanks to rising interest rates and pressure from fintech players.
"Businesses now compare their banking experience not with other banks or credit unions, but with platforms such as Amazon," said Christine Barry, research director at the Aite group. "Fintech is raising the bar, forcing financial institutions to play catch up to replace outdated, clunky experiences with a newer, more modern look and feel."
San Antonio-based Broadway Bank has a similar story to tell. The $3.6 billion commercial bank recently introduced enhanced treasury management capabilities to compete with bigger financial institutions for the bread and butter of its business – commercial services, private banking and wealth management – while also making a big difference for its customers.
Just like the bank's retail customers, corporate customers expect flexibility, simplicity and a full-featured mobile experience. Jeff Foote, the bank's group EVP and business solutions executive, said drawing a line between the consumer and commercial worlds doesn't work these days. That's especially true in the small business market where owners are more apt to want personal accounts and commercial accounts on the same technology platform.

Foote said he believes the combination of enhanced technology, a friendly user experience and a commitment to customer experience excellence differentiates Broadway Bank in a crowded, competitive commercial market.
"Business customers find stodgy, multilayered, complex technology annoying," Foote said. "You have to provide businesses with the intuitive, user-friendly, secure experience they expect."
Finding Your Strategic Focus
But increased investments in commercial services are only part of the answer; your budget must reflect a strategic focus on the right capabilities and priorities for your bank or credit union, according to Troy Land, senior vice president of product management for Fiserv.  Look at where your organization can invest to best establish, promote and grow your corporate opportunities to deliver transformational commercial services.
Most in the industry agree it starts by determining the makeup of your customer base – their strengths, challenges, needs and expectations – as well as evaluating how key market trends influence your strategies.

Market Trends and Opportunities
While commercial activity represents far fewer transactions than retail, the value of business transactions is usually much higher. With fewer transactions to process, there are opportunities for greater efficiencies.
High-dollar transactions can mean higher compensating balances, leading to additional revenue opportunities. As it is, commercial revenue made up 38 percent of financial institutions' operating income in 2016.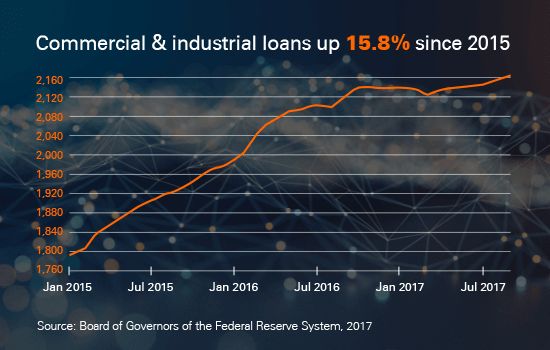 Most metrics point to a robust climate for commercial banking. Growth of private sector firms with more than 250 employees is trending upward, which helps explain a continued uptick in commercial ACH transaction volumes, including a 5.6 percent year-over-year increase in business-to-business transactions and a 5.8 percent year-over-year increase in payroll and other consumer direct deposit transactions in 2017.
That's in line with Barry's assessment of opportunities in the commercial market.
"Small business often represents untapped revenue potential when those customers are migrated to commercial platforms," Barry said. "For middle-market accounts, focus on understanding your customers' full experience. As businesses do well, there are more ways financial institutions can help."
Look at ways to better serve, cross sell and manage corporate customers, Barry said. Help businesses leverage their relationship with your institution to grow and thrive.
How will your financial institution deliver differentiated value to your commercial customers? First, look at how businesses can best access, manage and move money.

Access to Money: Making the Most of a Strong Commercial Lending Market
Commercial lending is essential to most financial institutions, making up 63 percent of total loan portfolios for banks with total assets under $1 billion. The market continues to be strong; since 2015, commercial and industrial loans are up 15.8 percent and commercial real estate loans have increased 13.7 percent, according to the Federal Reserve.
"Credit is almost always the lead product in winning business relationships, laying the foundation for every other relationship, including deposits," said Chad Avers, vice president of product management, Bank Solutions, Fiserv. "Because everything ladders off of lending, successful commercial bankers prioritize commercial lending opportunities."
Broadway Bank's success is a model example. The bank uses lending as a primary source of revenue and a gateway to broader, more long-term relationships. Broadway Bank's back-office automation efforts  have cut approval times by two to three days, removed duplication of effort and eliminated several process redundancies.
An easy, intuitive digital commercial lending experience can be a key differentiator for financial institutions, Avers said. Businesses want easy application processes, short waits for credit decisions and greater efficiency at every step in the life of a loan. The digital transformation of lending is helping to meet those needs by reducing fragmentation and moving quickly toward the end-to-end digitalization and automation of loan processes, types and roles.

Without automation, the costs of loan origination are high.
"That stops many financial institutions from making smaller commercial loans," Land said. "Tools that automate origination, decision making, applications, workflows, tracking and other loan processes enable banks and credit unions to make smaller, yet still profitable, business loans."

Managing Money: Cash and Treasury Management Deliver New Revenue Opportunities
Treasury management and other best-in-class commercial services are the price of admission to conversations with larger business prospects, Foote said. Broadway Bank's recent improvements to its treasury management capabilities have led to opportunities with more sophisticated corporate accounts. And, in some instances when the bank may have been vulnerable in the lending space, Foote said a full suite of commercial solutions made it possible for Broadway Bank to compete for and win business on factors other than loan rate.
In today's competitive environment, financial institutions that help businesses efficiently manage cash flow, costs and forecasting put themselves in position to gain revenue and commercial market share.
"As valuable as interest income is and always will be to our organization, Broadway Bank is on a mission to boost noninterest revenue," Foote said. "Treasury and cash management solutions enable us to provide value to our business clients, while also creating new revenue for our organization."
Whether the client is online or using a mobile device, cash and treasury management solutions provide a centralized point for businesses to check balances, perform internal transfers, and send and approve payments. A 360-degree portfolio view of activities helps businesses better understand performance metrics. Because large corporations often have dozens of banking relationships, aggregating multiple applications in a more streamlined, cohesive manner helps businesses better understand where funds are and where they should be.
As with commercial lending, Land said, the user experience is key. Businesses want easy, intuitive, customizable access to data in whatever channel they choose, especially mobile access to information, required approvals, and notifications of impending actions and security concerns.
It's not surprising, then, that investments in treasury and cash management are up 3.2 percent since 2014. Among the top 50 banks, 80 percent are evaluating cash management providers.
"Fierce competition for the growing business market is causing greater investments in technology, including a huge pickup in cash management," Barry said. "Many financial institutions are replacing outdated cash management systems, focusing on ease of use, actionable information and single sign-on capabilities to enhance the user experience."

Moving Money: Businesses Want Faster, Integrated Payments
Financial institutions that deliver commercial payment products that help businesses run more efficiently are poised to grow fee revenue and market share – and deliver differentiated value to their corporate accounts. Enhanced payments capabilities include mobile payments, ACH and wire payment functionality, integrated payables, enhanced security features and faster payments.
The faster businesses get paid, the sooner funds are injected into their cash flow – and the quicker they can invest and earn, Land said. Real-time or same-day payments are a growing need and expectation for commercial clients. According to 2017 research from Finextra and Dovetail, now part of Fiserv, 76 percent of financial institutions believe they must offer real-time payments to win new corporate business.

Broadway Bank has seen slow but steady growth in use of same-day ACH payments. The flexibility for faster payments has made a huge difference to the bank's business customers. Recently, for example, a business missed sending its payroll file on time. Thanks to same-day ACH, the business met payroll obligations at significant cost savings compared to the option of issuing wire transactions. Foote called it a "wow experience" for the customer.
And businesses are willing to pay for that convenience and speed, Avers said.
"Big payments," he said, "make a big difference for a business' cash flow."
Like faster payments, payment hub technology is at the heart of enhanced commercial capabilities. It promises a seamless processing experience across ACH, wire, check and instant payments, as well as a unified, real-time view of all transactions. Avers said most organizations are siloed, with separate risk controls around each payment type, including wires, ACH or cards. Payment hub technology consolidates payment applications to provide a single, more holistic view of payment activities and enhanced risk management.

Commercial Services 101
Meeting the complex needs of businesses is no easy task. But sometimes, Foote said, the industry makes it seem more complicated than it really is.
"Every solution we offer and every interaction we have should come back to providing efficiency, effectiveness and profitability for our customers," he said. "That's the simple 101 of what we do here."