Meeting consumers' changing expectations for how and when they get paid
Despite the emergence of innovative payment platforms and technology providers, more than a third of business-to-consumer disbursement payments are still made by check. That can be an expensive and slow process, especially when there's a better way to pay.
Digital disbursement solutions provide fast and secure payment delivery options and simplify the time-consuming task of paying large numbers of consumers or workers. A digital approach, complete with real-time reconciliation and tracking, also lets all parties monitor payment status during each step of the process, which can reduce operational overhead and improve satisfaction.
U.S. companies make more than 1.9 billion payments to consumers annually, according to the Aite Group.  Those payments, known as disbursements, include insurance claims, rewards, rebates and payments from businesses to workers. For gig economy workers, freelancers and even those receiving regular paychecks, digital payment options help them get paid faster and, in some cases, as quickly as money is earned.
Changing Consumer Preferences
Expectations & Experiences: Channels and New Entrants, the latest quarterly consumer trends survey by Fiserv, shows paper checks are the leading way companies pay consumers. But that's not the way many people want to be paid. For example, among those who received an insurance payment in the past year, 65 percent received a paper check – a payment method preferred by just 25 percent of millennials.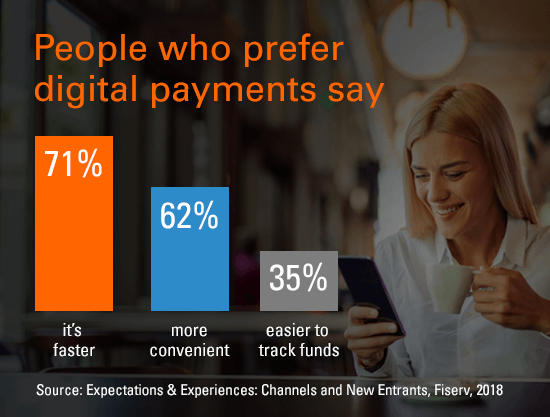 Electronic payments to a bank account are consumers' most preferred method in many instances, including hourly wages (68 percent), loan disbursements (47 percent) and medical reimbursements (45 percent). Those who prefer digital payments say they're faster (71 percent) more convenient (62 percent) and easier to track (35 percent).
Digital disbursements are designed to help businesses reduce costs and the time required to get funds to the consumer. Money can be deposited directly into recipients' bank accounts the same day or nearly instantly credited to their debit or prepaid cards. When consumers' financial account information is not accessible, social tokens such as emails or mobile phone numbers are another secure way for businesses to pay people.
Considering a faster, digital way to pay customers or workers? Here are five things to know:
1. Your Customers and Employees Are Asking for It
Change is driven by consumers who increasingly expect to be able to send and receive money electronically. The more people pay their bills electronically, the more they expect companies to pay them in the same easy, convenient digital way.
And clearly, consumers are warming up to electronic payments. Nearly one in five consumers used a financial organization's person-to-person payments service in the last 30 days and, according to the Aite Group, 85 percent of consumers made an electronic P2P payment in 2017.  Seventy-three percent of households use online bill pay and 64 percent use mobile bill pay. In addition, many active online and mobile banking users report increased use of digital wallets, peer-to-peer networks (P2P) and electronic bills in the past year.
2. Your Competitors Are Doing It
To remain competitive, more businesses are turning to digital disbursements for insurance claims, rewards, rebates and other payments.
In addition, how people work – and get paid for that work – is changing. As part of the gig economy, independent workers connect directly to customers through platforms such as Uber, Airbnb and Etsy. Because many of those platforms provide goods and services on demand, payments are expected at a similar pace.  At the same time, more traditional businesses are offering faster ways to pay their workers to align to how people live and work today, boosting employee satisfaction and retention.
3. Speed Matters
Getting paid faster is one of the key features attracting consumers and workers to digital disbursements. Consumers can avoid long waits for paper checks and, through innovative payment platforms and services, workers no longer have to wait until the next payroll cycle before getting paid via direct deposit. In addition to the speed of payments –  instant, same day or next day – flexible payout options and value adds such as business branding, digital endorsements and communications can set a digital disbursements solution apart in a new age of payout solutions.