Waiting for your paycheck is so 2010. A wave of fintech companies is changing the traditional pay cycle, allowing people to tap into money earned before the next payday. It's another example of how money management and movement are transforming, driven by advances in technology, a shifting economy and changing consumer expectations.
How people get paid is changing in step with changes in how many people work. As part of the gig economy, independent workers connect directly to customers through platforms like Uber, Airbnb and Etsy. A growing number of people earn money from other short-term engagements, freelance work and on-demand roles. No matter the job, including traditional employment, workers crave greater flexibility and fewer constraints than ever before.
And many of them need it. While nearly two-thirds of Americans are paid biweekly, sometimes waiting for the next paycheck is problematic, whatever a person's income. Half of millennials (and 38 percent of all consumers) say it would be difficult or even impossible for them to pay back a loan of $500 right now, according to recent Fiserv research.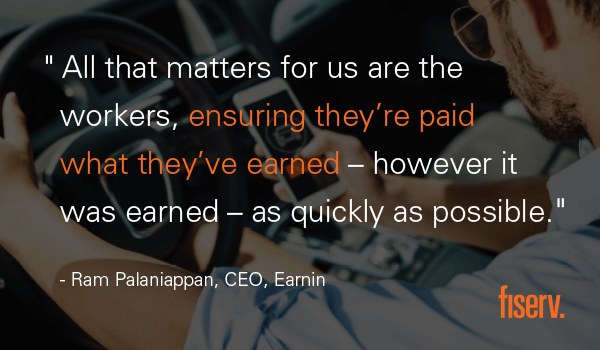 As people search for immediate access to earned wages, many can now turn to fintech companies like Payfare, DailyPay, Instant Financial and Earnin, which offer direct-to-consumer solutions or work as services from employers. Earnin allows anyone with a job and a bank account to get paid the minute they leave work. From the smartphone app, an earner snaps a photo of an electronic timesheet and Earnin deposits the earnings in the person's bank account. Instead of fees or interest, users are asked to tip what they think is fair and share the app with their friends and family. Workers at more than 50,000 companies, including Apple, Starbucks and Home Depot, have used Earnin, all without a direct partnership.
As part of an ongoing series of fintech profiles, we spoke with Ram Palaniappan, CEO of Earnin, to understand the factors driving the changing payday and why a weeks-long pay gap is difficult for many workers in today's economy.
According to Palaniappan, more than $1 trillion in earnings is locked away in the traditional pay cycle. Like similar providers, Earnin provides access to those funds, which helps workers worry less about finances and focus more on performing their best.
How and why is Earnin adapting the pay cycle?
Not much has changed in the way Americans are traditionally paid; for more than a century, the biweekly pay cycle has dominated the American workplace. What has changed is lagging wage growth, a higher cost of living and cumbersome student loans.
In a recent wage analysis, Earnin found that Americans who are paid biweekly are 50 percent more likely to use Earnin than workers who are paid weekly. That's despite the fact that workers paid biweekly – the most common pay cycle – have a higher average income. The budgeting flexibility afforded to those paid once a week allows them to overcome unexpected financial shocks better than those trapped in a longer cycle. Nearly 80 percent of Americans live paycheck to paycheck and few people have an emergency fund to cover unbudgeted expenses. That contributes to billions in overdraft and late fees – costs that could be easily avoided with access to their already earned wages.
What are the market trends influencing how people want to get paid?
Technology is opening up countless opportunities by improving the speed and quality of our banking infrastructure, but the financial system doesn't work well for everyone. We see consumers who are tired of onerous fees, inconvenient access and limited options. The growing investment in fintech has led to some wonderful new initiatives around payroll, and same-day and real-time disbursements are not that far off from a technical standpoint.