When it comes to receiving and paying bills, security weighs heavily on consumers' minds. According to the Eighth Annual Billing Household Survey from Fiserv, security is of significantly greater concern related to receiving and paying household bills than it was just a year ago – and those concerns influence the choices people make every day.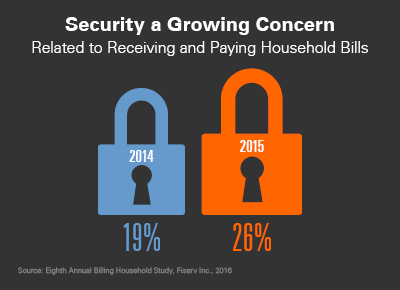 According to the Billing Household Survey, more than 27 million people say they are more concerned about security than they were last year – one of the survey's most significant findings. Only 6 percent say they are less concerned. Among the pain points when it comes to receiving and paying bills, 26 percent cite security as a source of concern, compared to 19 percent in 2014. Security is now second only to the possibility of late payments as the top bill pay concern.
Consumer education is key to overcoming these concerns, as many consumers do not have a solid understanding of bill payment options that enhance security. Sixty-five percent of those surveyed said bank bill pay and biller direct options are the most secure ways to receive and pay bills, while 25 percent said postal mail is the most secure. Only 2 percent see nonbanking sites as a secure option. Plastic is seen as more secure than ACH, with 57 percent of respondents saying they view credit, debit or prepaid cards as more secure than ACH.
Misperceptions about security may lead some consumers to avoid technology solutions. Forty-four percent of respondents who do not use mobile bill pay cite security concerns as the primary reason. These findings are at odds with reality and suggest a critical need to prioritize consumer education.
While convenience and speed are of paramount importance, security often drives consumer decision making. For example, 24 million households pay bills at check-cashing establishments or grocery stores. Why? One of the key reasons is that they feel it's more secure than other options.
In addition to the retail payment channel, consumers are making more use of a wider variety of bill payment options than ever before – and security seems be a factor in which options people choose. In fact, the only channel to lose ground in the most recent survey was the use of text-to-pay, with payment volume dropping by 55 percent from 2014 levels. This drop is primarily due to respondents' concerns about security and a desire to go to bank and biller sites.
Security also influences online bill payments. Given the option to pay all of their bills at a single website, 75 percent of respondents would prefer to pay at their bank or credit union's site. The top reason – cited by nearly 70 percent – is because financial institution sites are seen as "more secure than other websites."
Consumers need to know they can trust their bill payments are secure, regardless of how they make them. By focusing attention on educating consumers, billers can overcome security concerns, helping consumers make the most secure choices when receiving and paying their bills.
Interested in learning more? Attend The New World of Bill Pay Security and Compliance at Fiserv Forum 2016, which features sessions dedicated to payments.