Consumers expect most aspects of their daily lives to move forward at the push of a button or the swipe of a finger. The Eighth Annual Fiserv Billing Household Survey from Fiserv finds consumers' expectations for anytime, anywhere access and speed includes their billing and bill payment options.
Here's what billers need to know to navigate consumers' changing expectations:
Consumers don't take the issue of payment processing timing lightly. Gone are the days of timing transactions in business days. Today's consumers expect their bill payment transactions to be finalized in a matter of minutes, if not sooner. In fact, nearly a quarter of people expect instant credit for bill payments – a figure that rises to 70 percent when including those who expect same-day credit. A full 90 percent expect credit no later than the following day. Real-time – or at least same-day – bill payment processing is more important than ever before. Billers need to understand that industry initiatives for faster bill payments are already underway, and same-day bill payment credit availability will soon be the norm.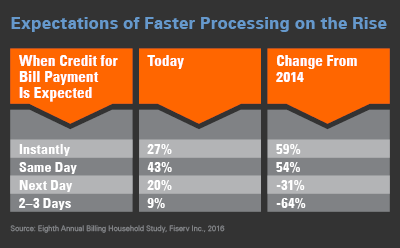 Not only is bill payment processing expected to be faster, but the bill payment interaction is expected to be faster as well. Given the option, many will avoid registering or logging in solely because anonymity saves time. One in four households reports using the guest checkout option at biller sites due to convenience and password fatigue. Consumers simply don't want to remember yet another username and password.
Consumers are bill pay omnivores, choosing whatever channel is most convenient at the time. Channel switching has become the norm, and the vast majority of households use multiple bill payment methods. On average, consumers use 3.6 different payment methods each month – up from 2.9 one year ago. Without a doubt, the desire for faster, more convenient transactions has driven some of this growth. In fact, nearly 21 million households change how they pay bills from one month to the next – a 40 percent increase from previous survey.
Consumers expect multiple bill payment options. No biller is off the hook, regardless of type, location or size. The expectation of multiple bill payment options does not vary depending on the type of biller. In fact, consumers expect a local utility to provide the same options as a national wireless carrier or cable provider.
When it comes to bill payments, consumers clearly want to pay who they owe and get on with their lives. To succeed, billers must understand this need for speed – and prioritize delivery of speed and convenience across multiple channels.