Talk to consumers about their life events, and people will listen
People want to be healthy. We meditate and spend money on gym memberships and fresh-pressed juices. We want work-life balance to make time for friends and family. But when it comes to our financial health, are we dedicating as much time, attention and resources as we should?

Recent results from the Expectations & Experiences: Household Finances survey by Fiserv suggest the answer is no. Only 38 percent of consumers expressed satisfaction with their overall financial health, trailing physical health and social life (both at 44 percent) as well as emotional health (56 percent).

And most people (56 percent) spend only two hours or less per month managing their finances, according to the survey.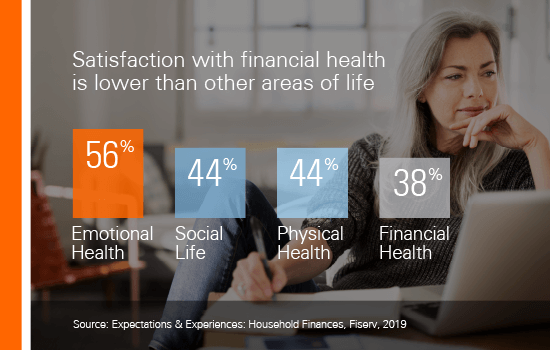 So how can banks and credit unions reverse those numbers and improve consumers' financial health? When I ask financial institutions what they're doing to help, they often talk about putting together financial services training at schools and community events. 

Those are incredibly important steps that are even more effective when we have a clear understanding of what financial health is and what it means to individual consumers. Is financial health how I'm doing in this moment or how well I've saved for retirement? Is it based on whether I can afford to buy a house?

Educating consumers about financial health as it relates to their life is an opportunity to create deeper engagement. Think about how that compares to efforts to improve physical well-being. People decide to improve their physical health, and they use tools such as gym memberships and fresh-squeezed juices to help them accomplish that. 

But with financial services, an easy correlation isn't always clear. What information and tools do you offer to help people better manage their household finances? And do people know about them? 

Here are three ways your organization can help improve the financial health of consumers.

1. Educate Yourself Before Educating Consumers

Financial health means different things to different people depending on their generation and what's going on in their lives. So it's crucial for your financial institution to learn how to speak to each segment of your client base.  

For baby boomers, financial health is focused on retirement. For Gen Xers, it could be retirement as well as accumulation of wealth. For older millennials, financial health is based on getting married, buying a house and having kids. For younger millennials and older Gen Zers, it could be as simple as, "How much money do I have right now because I'm going out Saturday night?"

Pairing that understanding of life events with a sense of how satisfied individual generations are with their financial health helps you learn how best to communicate with consumers. For instance, the Expectations and Experiences survey found that 70 percent of millennials expressed low satisfaction with their financial health.

Clearly, millennials can be an area of focus for your financial health efforts. But it starts with educating yourself about the best way to speak to younger consumers. Once you have that clear understanding, cascade it throughout your financial institution so everyone, from the teller line to IT, has that knowledge.

2. Start Speaking Their Language

It's difficult for your advice to resonate when you speak to every consumer the same way. When advising younger generations, for example, are you still talking about checking and savings accounts, even when they don't necessarily care about that?

My friend's son just got his first paycheck and had no idea what to do with it. All he wanted to know was how quickly he could turn it into cash. 

He's not interested in learning about writing checks or opening a savings account. So why not speak his language? His financial institution could introduce him to an account that makes it easy to turn his paycheck into cash. It's a change in communication style that responds to his immediate needs in a way that makes more sense to him.

Meet people where they are and speak to them in a language that is most meaningful to them. Let's begin to educate people about how financial institutions can help them navigate the financial implications of life events, from first jobs to retirement.

3. Offer Convenient Tools and Services
Advising consumers based on what is happening in their lives positions financial institutions to have a deeper effect on how people view their financial health.
But surrounding that communication is the value of the tools and services you offer when advice becomes action. Consumers of all generations need to comprehend the value they are getting when they engage with your organization. That extends to assessing their financial health, developing strategies to improve it and offering budgeting, savings or any other tools they can use to achieve their goals. 

How easy is it? How convenient? How consistent is the tool or service?

Once you've established better ways to communicate to different generations and show them the value of your services, your financial institution can start thinking about branch strategies and establishing consultative, as opposed to transactional, engagement with consumers. 

Financial Health As a Way of Life

Helping consumers improve their financial health starts with training yourself and the people in your organization.  

Can you speak to consumers in ways that relate to what's happening in their lives? Are the tools and services you provide easy, convenient and consistent for both consumers and your employees? When you capture consumers' attention about their life events, are you prepared to extend that engagement to advice and action?

Answering yes to each of those questions can unlock the door to financial health and ensure banking is central to a consumer's life rather than an interruption in it. 

For additional perspectives on the hottest topics in financial services, learn more about Forum 2019 where we shared best practices, gained valuable insights and connected with the best and brightest in Fintech.
Survey Methodology

The survey was conducted online within the U.S. by The Harris Poll from August 22–September 3, 2018. A total of 3,017 interviews were conducted among U.S. adults ages 18 and older who met the following criteria: Someone in the household currently has a checking account with a bank, credit union, brokerage firm or other financial organization and has used their checking account to pay a bill or make a purchase in the past 30 days.