Ask someone where they bank and they may tell you about the credit union on the corner or the megabank downtown. But ask them how they pay or get paid and they may also mention PayPal, Starbucks or Walmart.
Nontraditional entrants are changing the way products and services are offered and, potentially, the relationships you've built with your accountholders. Expectations & Experiences: Channels and New Entrants showed a significant jump in the number of people who are comfortable with using technology, payments, retail and social media companies to manage and move money.
The most recent quarterly consumer trends survey by Fiserv found more than half (55 percent) of people would be comfortable using a technology company, such as Apple or Google, for various types of financial transactions, compared to 40 percent of respondents in 2017. At the same time, use of traditional financial institutions for bill payments, loans, money management and other financial services remains steady.
No matter what, consumers want a consistent, easy and intuitive digital experience. As consumers grow more comfortable transacting with nonfinancial providers, financial institutions must work to differentiate their experience.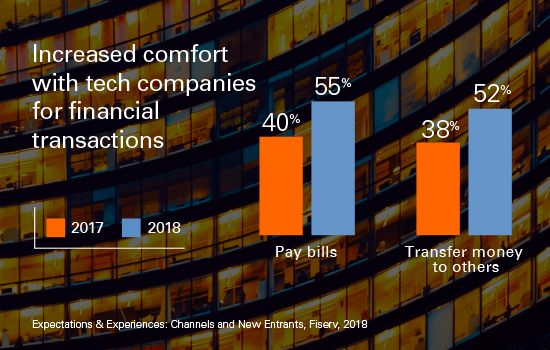 Here are four best practices for banks and credit unions:
1. Create Frictionless Customer and Member Journeys
Focus on the journey instead of the product or service. People expect to easily cross from one channel to the next without missing a beat. And at every touchpoint, financial institutions should offer what people need to make their lives easier.
Think of the account opening process, which may start on a mobile device or a laptop and end in the branch. When the account is open, people should have access to all of the components they need, including a new debit card, online banking and a mobile banking app.
2. Train and Transform Your Workforce
Turn your organization's focus from purely transactional tasks to a greater emphasis on building relationships with your members or customers. Ensure staff members have a comprehensive understanding of the digital capabilities you offer to help ensure full access to every product and service.
When I realized my sister was paying bills via phone and paper checks, I gave her a quick tutorial on using online bill pay through her bank, saving her considerable time and hassle.
No one at my sister's bank thought to help her in the same way – to make her life easier. That kind of oversight is one reason technology companies are sometimes seen as more user friendly than financial institutions.
3. Take Full Advantage of Analytics
Data reveals insights, trends and patterns about how people are using your systems, processes and services. If my sister's bank had been using their data properly, they would have known she wasn't using online or mobile bill pay. At any time, they could have asked, "Can we take a few minutes to talk about how easy it is to pay bills online?"
Analyze your market, your data, everything around you. Use technology to enable an enterprise-wide, 360-degree view of customers and members. Data analytics helps financial institutions sift through information to better manage their business and better align products and services to meet consumers' changing expectations.
4. Embrace New Technologies
Offering emerging technologies such as voice banking and wearable capabilities can help your organization attract new digital banking users, expand into additional markets and stake a claim as an innovator. In the same way, artificial intelligence has the potential to transform banking, creating an experience that's better, faster and more affordable